WebTalks 2020 with Webster Alumni Nenad Pacek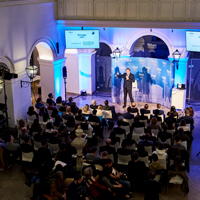 January 23rd 2020 - Webster Vienna Alumni Association annual WebTalks was led by an insightful presentation by author and Webster Vienna Alumni Nenad Pacek.
The evening kicked off with an hour-long presentation focused on the "understanding the global economy – reality and misunderstandings", followed by a Q&A and networking portion in the atrium of WVPU.
Several dozen attendees, captivated by Mr. Pacek, tunned into topics on the global economy, China's global influence, market entry and expansion strategies, as well as business and political predictions.
As a Webster Vienna Private University alumni, Mr. Pacek was delighted to be back at his alma mater for the presentation.
WebTalks is organized by the Webster Vienna Alumni Association, in cooperation with WVPU and brings together alumni, students, faculty and the Viennese community for an annual presentation on a variety of subjects by WVPU alumni.
More on Mr. Pacek:
After 18 years with The Economist Group, where he last served as the Executive Vice President for corporate and government advisory (in EMEA and globally), Mr. Pacek founded two corporate advisory businesses ten years ago. His advisory businesses help global and EMEA boards of large multinational companies understand economic/business/political outlooks for virtually all countries around the world. In addition, these advisory businesses also assist global and EMEA leaders with strategic planning, budgeting, market entry and market expansion strategies, largely focusing on emerging markets.
Mr. Pacek is the author of four books: two editions of Emerging Markets (2003, 2007), Global economy (2012) and The Future of Business in Emerging Markets (2012). He is one of the world's leading authorities on economic and business issues that concern multinational corporations seeking faster growth internationally. He performs on average two to three speeches/advisory sessions every week at various corporate meetings on issues ranging from global, regional and country level economic/business outlooks to best business practices for international growth.
In corporate circles he is well-known for not using any notes or power point slides while speaking and engaging in discussion. He is an outstanding professor at Duke Corporate Education (no. 1 rank globally for customized corporate programs for senior executives) and had previously served on the supervisory board of the US-based Centre for Creative Leadership (no. 1 rank globally for senior executive leadership education). Over the years he has lectured at numerous corporate universities.
During his days at The Economist Group he chaired over 100 Government Roundtables with Presidents, Prime Ministers and governments in Europe, Asia, Latin America, Middle East and Africa.
He lives near Vienna with his wife Ms. Antonija Pacek and three daughters. In his free time, he loves to spend time with his family, and he enjoys playing tennis, basketball and golf. Between 1998 and 2008 Mr. Pacek taught an "International Business and Economics" course at Webster University.