Video: Welcome Back, Students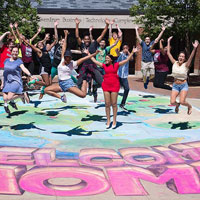 With the kickoff of the Fall 2015 semester, new students and orientation leaders participated in a myriad of fun and ice-breaking activities to get ready for the year.
Ziplines, bubble games, human "W" formations and fresh food highlighted various events at Webster University campuses around the world.
'Welcome to the House of the Gorloks'
The video below shares sights and sounds from orientation and welcome week activities in St. Louis, including the formation of the human "W" on the quad and the creation of the "Welcome Home" mural by Chalk Riot.
Special thanks to Webster student Ethan Stohs for sharing much of the video featured here!