Sign Up: Help Welcome Students to Webster Aug. 21-31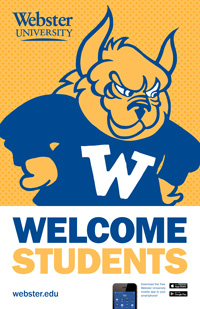 Welcoming our new and returning undergraduate and graduate students is crucial and impactful for Webster University.
Again this year, the Department of First-Year Experience and Undergraduate Persistence and the Welcome Students Committee is in need of your help during the weeks of Aug. 21- 31.
How to Help
We have a variety of ways in which you can assist with these important efforts. Please visit this link to sign-up to volunteer. Ways to help include:
· Staff a Welcome Table and greet new students as they arrive for class
· Help the OLs move in new students (During Move-in)
· Hand out water to new students and families (During Move-in)
· Walking the resident hall floors and greeting new students as they move in (During Move-in)
· Mingling and greeting new students (at meal times)
· Cheering for new students as part of the Tunnel of Spirit (Opening Ceremony)
· Helping to organize new students for, and being a part of, the giant "W" on the quad
...and many more opportunities. Come and enjoy the fun welcoming our new Gorloks!
Sign-Up and More Info
If you are interested in offering your time and energy, please visit this link to sign-up to volunteer.
If you have questions regarding the New Student Orientation, contact Justin Barton, interim director of First-Year Experience Programs. If you have questions regarding Welcoming our Graduate Students, contact Teron Sutherlin. Contact information can be found below.
Thank you for your generosity and passion for Webster University. We hope to see you as we welcome our new students to campus!
First Year Experience and Undergraduate Persistence Staff & Welcome Students Committee
Beth Russell (russelmb@webster.edu)
Justin Barton (jamesbarton41@webster.edu)
Teron Sutherlin (teronsutherlin17@webster.edu)