Webster student reflects on experience at Greek rally
In a sea of blue and white Greek flags at a recent rally about the dispute between Athens and Skopje over use of the name "Macedonia" for the former Yugoslav republic, a photo of one person stood out.
It was Karen Wharton, a Webster MA in International Relations student at the Webster Athens campus, who attended the rally with her professor, John Nomikos.
The photo received local and international news coverage and went viral on the internet with the caption, "The most powerful photo of the rally that swept through the internet."
For Wharton, attending the rally was a rare chance to experience the movements and international issues she studies by placing herself right in the fray, with hundreds of thousands of people who gathered near Parliament in Athens about a decades-old dispute between the two nations.
Webster Athens asked Wharton to reflect on the rally -- and the surreal experience of her photo going viral -- which she shared below:
The Greek Demonstrator Unveiled, by Karen Wharton
A candid photograph of a dark skin woman wearing a Greek flag bandana set me apart from the predominantly Greek crowd bursting with defiance to uphold territorial claims and the use of the name "Macedonia." A long and complicated story where both nations Greece and their Macedonian neighbors -- better known to Greeks as Former Yugoslav Republic of Macedonia (F.Y.R.O.M.) -- histories and pride overlaps and the past encroaches on the present. One nation is trying to forge an identity and carve out a territory while the other is protecting its history, cultural heritage and territory. In Greece, this issue has remained a hallmark of patriotism.
Paradoxically, the dispute brings together State, Orthodox Church loyalist and government oppositions, all drawn from their similarities of deep-seated opposition to any compromise of this mass rally brought together by a despot nationalist.
I couldn't stay away, I was going to be there. After a few months into my yearlong master's degree program in international relations at Webster University, I knew this was a special moment in Greek history.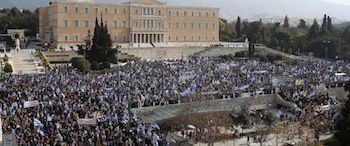 It was also a huge opportunity for me to absorb the culture, plus continue research in the socio-political culture and security of Greece. What better way to bond with Greeks but to join in their favorite pastime (demonstrations) and immerse oneself in the daily lives of the people?
I had the honor of working with my renowned professors and Greek patriots, John Nomikos and Stanley Sfekas. Drawing from skills learned in my understudy at Webster, I became more than an active listener but a doer comprehending my social perceptiveness role as a demonstrator. Also, these skills allow for my critical thinking, monitoring, coordination and good judgment.
Adorned by the Greek flag, glowing and sweating with pride, I tightly gripped my mobile camera as it tracked the crowd's every move and began my slow and steady trot through the crowd shouting in unison "Macedonia is Greek and only Greek" with thousands of Greeks who swamped the main Syntagma Square.
As I walked the local streets of the square, a galaxy of blue smoke filled the air and a rotating web of boisterous conduct enhanced this magical cavalcade, an enormous Greek flag blown in the wind filled the sky as a backdropped. The best ways to experience international relations first-hand in the heart of Greece: a demonstration with hundreds of thousands of people.
My jaw dropped; my eyes widened from amazement at the passion and energy that filled the square. I felt the energy and passion of Greeks and was welcome by many as a true sister of Greece. With tears in their eyes, young and old hugged and praised me for participating, when many Greek stayed at home. When I turned around, three strangers stood behind me with outstretched arms politely they introduced themselves. One of them, a woman dressed in black with hat tilted to one side, shook my hands and elicited why I was there in support of Greeks.
The exciting experience of being "one with Greeks" in the warmth of a cool winter day will forever be imprinted in my mind. Reminiscent of African-American struggles for cultural identity and equality, which have proven how effective peaceful demonstrations like Martin Luther King's can bring about change and enforce political justice.
I looked on in awe at the crowd and saw history in the making. Only rarely does one get the opportunity to be a part of a movement that years of diplomacy have failed to resolve. As seen in resent worldwide issues like the women's march, it will take on a life of its own and gain immortality in history. I learned a lot that day, like many people all over the world did from my standout candid photograph that truly told a story that cannot be replace with words. '