Vienna Spotlight: When One Door Closes, Another Opens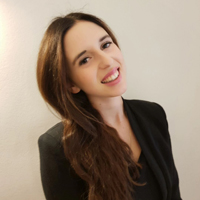 Although it may seem odd to say so at first, history shows that ballet and politics have always been close bedfellows. At Webster Vienna, no one embodies this relationship more closely than Patricia Karrer, a ballet dancer and political activist who will soon graduate with a degree in International Relations and Economics.

Patricia is young Salzburger with an interest in digitization, economy 4.0 and emerging technologies. She is exceptionally friendly, with a ready smile and forward-thinking attitude befitting her outlook. "Attending Webster Vienna for my undergrad studies not only shaped my critical thinking and practice of an outside of the box approach but also firmly enhanced and developed my leadership skills in a significant manner", she says.
Patricia has already accomplished a lot during her time at the university. "Webster Vienna opens up various opportunities for its students, both as far as academia and extracurricular activities are concerned," she acknowledges. Through the courses of her undergrad studies, she was not only part of Webster Vienna's delegation to the Warwick Economics Summit and Warwick Congress, but also organized and led Webster Vienna's Model United Nations for two consecutive years.
In addition to being home to the offices of the United Nations and its specialized agencies, Vienna is also the seat of a number of other international organizations and institutions. Because of this, Karrer was perfectly placed to obtain experience in the Austrian banking and insurance industry. She also took advantage of the opportunity to intern at the European Parliament and the Austrian Consulate General in New York City. "I was given the opportunity to visit the Massachusetts Institute of Technology (MIT) and take part in guest lectures at the Sloan School of Management last year before I started my internship at the Foreign Ministry of Austria in New York City," she explains.
And then, when one door closes, another opens. "I have applied to UCL and LSE and got accepted by both of them. I've decided to attend LSE and do an MSc in Management of Information Systems and Digital Innovation". She believes that being given the chance to pursue a master's degree at LSE not only offers her the chance to progress further towards her ideal career but also demonstrates a major milestone in her personal development.
Although her final year at Webster Vienna is concluding in extraordinary circumstances, nostalgia for the end of an era at Webster still affects her. As she points out, "I am really impressed with how fast Webster Vienna adapted to the given circumstances. As for the class of 2020 I think it is quite sad, but understandable that no commencement ceremony will take place. But, we will manage to say goodbye in a proper manner, and to stay in contact, because once a Webster Gorlok, always a Webster Gorlok!"
As for the future, she envisages a PhD in Economics & Digital Innovation, and experience in the corporate realms, until she is ready to launch her own company - or even companies! "I aspire to make an impact in the future and contribute to societal advancement and prosperity through thoughtful and efficient utilization of new emerging technologies", she concludes. Seemingly, Karrer's future is on the right path.