WINS Conference Welcomes Partners to Leiden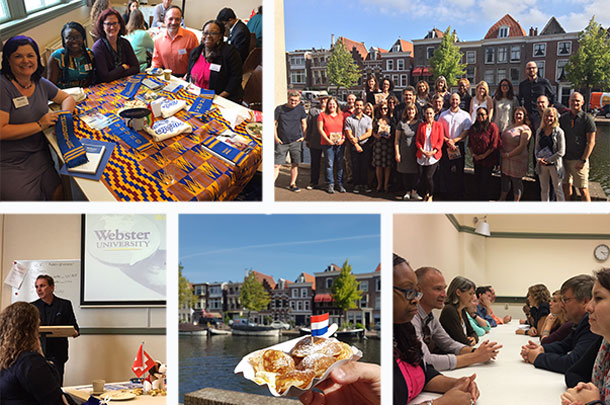 The Webster International Network of Schools (WINS) program's biennial conference, held at the Leiden campus July 2-5, showcased Webster's international campuses as study abroad destinations for WINS partner institutions.
Webster's provost, senior vice president and chief operating officer Julian Schuster addressed a group of nearly 40 individuals, highlighting Webster's international structure and encouraging WINS and Webster staff to collaborate, engage and work together.
"I applaud the entire Webster team--with staff in the U.S. and abroad--for organizing a thoughtful, hospitable, and comprehensive conference," said one attendee from a WINS institution. "The conference was personally and professionally rewarding."
Schuster, along with vice provost Nancy Hellerud, discussed Webster's global strategy and set the tone for collaborative and collegial discussion for the duration of the conference.
"Strong internationalization infrastructure at Webster University; c omprehensive student support," remarked another attendee.
This year's attendance marked the highest in WINS program history, including long-standing partners such as King's College, and new partners such as Goucher College.
The conference featured programs in Leiden, with local Webster staff and faculty presentations, and sessions and discussions on student life and academics across all international campuses. A full conference agenda can be found on the redesigned WINS website.
"I learned so much about Webster programs and how I can help promote study abroad at my institution," said another attendee. "I loved hearing from everyone and the smaller conference size makes networking much more meaningful."
Follow-up is underway for the fall semester as WINS and Study Abroad staff will attend study abroad fairs and meetings at partner institutions, and will develop special events with local institutions. WINS attendees also included representatives from Kent State University, Tuskegee University, Gardner-Webb University, Missouri Baptist University, Columbia College, Millikin University, Centenary University, St. Norbert College, Point Loma Nazarene University, Virginia Wesleyan University, Fontbonne University,
Trine University, Florida A&M University and Saint Louis University.
The WINS program, established more than 15 years ago, creates partnerships between Webster University and U.S. universities to provide access to Webster's international campuses on four continents. The program allows full-time, degree-seeking students of affiliated U.S. universities to study
abroad at one of Webster's international campus locations; and, allows for collaborative program development amongst partner institutions.