Hamline University Partners with Webster's WINS Program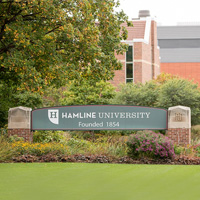 Hamline University, a private liberal arts college located in Saint Paul, Minnesota, has joined the Webster International Network of Schools (WINS) program.
The oldest university in Minnesota, Hamline is now known for the quality of its teaching and the success of its graduates. The university has produced 24 winners of the Fulbright scholarship in the last 15 years, and students are encouraged to explore the world through many study abroad programs that now include WINS.
Hamline offers majors, minors, and certification programs in more than 50 areas of study. There is also a strong international presence on campus with undergraduate students from around 24 different countries choosing to study at Hamline, and graduates from some 39 different countries.
Following a visit to Webster Vienna, Hamline's Director of Global Engagement Center decided to pursue WINS membership and begin sending students across the network. Hamline University remains a top-ranked university in its class, according to U.S. News & World Report's America's Best Colleges 2018 edition, and is a wonderful addition to the network.
About WINS
The WINS program, established more than 15 years ago, creates partnerships between Webster University and U.S. universities to provide access to Webster's international campuses on four continents. The program allows full-time, degree-seeking students of affiliated U.S. universities to study abroad at one of Webster's international campus locations and allows for collaborative program development amongst partner institutions. For more information visit webster.edu/wins or contact WINS Director Kim McGrath.