Women's Basketball Wins SLIAC Tournament Title, Earns NCAA Tournament Berth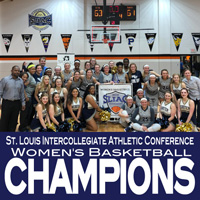 Webster University's women's basketball team is headed to the NCAA Division III tournament after winning the conference tournament championship.
Saturday's St. Louis Intercollegiate Athletic Conference (SLIAC) Tournament championship is the first for the Webster women's basketball team since the Gorloks earned the 2011 title. Third-seeded Webster defeated fourth-seeded Westminster College to claim the 2018 SLIAC Women's Basketball championship Saturday evening in the finals of the tournament on the campus of Greenville University.
"I am really proud of the composure and toughness our team showed tonight, but our team stayed locked in and focused," Webster 10th-year head coach Jordan Olufson said following his team's 20th win of the season. "We had a lot of different heroes step up today on offense and defense and it came from seniors to freshmen."
The Gorloks also claimed the SLIAC Tournament title in 2005. In addition, Webster also earned its fourth-ever NCAA Tournament appearance and its first since 2011 when Webster fell 82-70 in the first round to Illinois Wesleyan. The NCAA will unveil the 64-team field for this year's tournament online on Monday afternoon.
"We made play and it's great to see a team effort tonight to accomplish this win," said Olufson. "We beat a well-coached team tonight, hats off to Westminster who brought it tonight."
Read the full story at the Webster University Athletics site.