Webster Faculty in Women's History Event at Arcade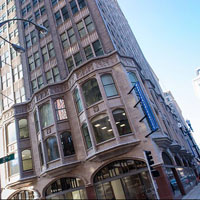 In celebration of Women's History Month and in support of women's leadership, Webster University and the Global Leadership League (the League) invite the Webster community to a special presentation, reception and networking event March 28 in the Arcade Building at Webster's Gateway campus in downtown St. Louis.
Come to the Arcade Contemporary Art Projects for a gallery networking reception and presentation from two distinguished faculty in the Visual Arts and Social Sciences. Yvonne Osei, BFA'13, BA'13, alumna and adjunct faculty member of the Department of Art, Design & Art History (DADAH), and Danielle MacCartney, associate professor of sociology in the College of Arts & Sciences, will engage participants in a panel discussion around "Influence" in international higher education and within the fields of art and sociology.
Following the discussion, a networking reception will be held in the Arcade Contemporary Art Projects Gallery, currently featuring the powerful exhibition, Sisu, which explores female strength, resilience and perseverance. Sisu is a unique Finnish concept that can be roughly translated into English as strength of will, determination, perseverance, and acting rationally in the face of adversity.

Wine and light snacks will be served. Parking validation is available for all guests who use the 9th Street parking garage across the street, next to the Old Post Office, at 905 Olive Street. All are welcome. The event is free, but RSVPs are requested.
Where: Webster University - Gateway Campus at 812 Olive St, St. Louis, MO 63101
When: Wednesday, March 28. Doors open at 4:30 p.m., panel discussion begins at 5 p.m., followed by wine reception in the gallery
Why: Network, learn and dialogue in the beautifully restored, historic Arcade Building in downtown St. Louis
RSVP: RSVP here.

Contact Kim McGrath or Francesca Curcuru for additional information.