Women's Soccer Earns Team Pinnacle Award From United Soccer Coaches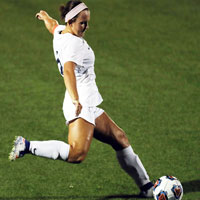 Webster University's 2018-19 women's soccer team received the Team Pinnacle Award on Oct. 24 from the United Soccer Coaches (USC). The Gorloks were one of the 52 institutions and just one of 19 college programs that were bestowed the award by the organization.
The Team Pinnacle Award was created by the USC to recognize teams for achieving a high level of fair play, educational excellence and success on the soccer field. To be considered for this award, teams must have received either a Platinum, Gold, Silver or Bronze version of the High School or College Team Ethics and Sportsmanship Award.
The 2018-19 Gorlok women's team earn a Silver level of the College Team Ethics and Sportsmanship Award; it was recognized as a College Team Academic Award winner for the 20th consecutive year.
Webster was one of 17 collegiate women's programs recognized for the Team Pinnacle Award and one of nine Division III women's programs selected for the inaugural honor. In addition to the 19 collegiate programs honored, the USC also awarded 33 high school teams with a Team Pinnacle Award.
"This prestigious new team award designed to recognize a combination of academics, sportsmanship, and athletic excellence may be the most difficult award to achieve for any soccer program," said Steve Veal, United Soccer Coaches Awards manager.
Webster and the other 51 honorees of the inaugural Team Pinnacle Award will be formally recognized at either the College Coaches Reception on Thursday, Jan. 16, 2020 or the High School Coaches Breakfast on Friday, Jan. 17, 2020 in Baltimore, Maryland, as part of the United Soccer Coaches Convention.
Team Pinnacle Award Winners
Belmont Abbey (N.C.) College - Women

Benedictine (Kan.) College - Women

Bridgewater (Va.) College - Women

University of California-San Diego - Women

Calvin (Ohio) University - Men

University of Central Oklahoma - Women

Centre (Ky.) College - Women

University of Dubuque - Women

Eastern Connecticut State University - Men

Grove City (Pa.) College - Women

Herkimer (N.Y.) College - Women

Iowa Western Community College - Women

Loras College - Women

Saint Joseph's College of Maine - Women

SUNY Geneseo - Women

Texas A&M University - Women

Union County (N.J.) College - Women

Webster University - Women

University of Wisconsin-Stevens Point - Women