Women's Soccer SLIAC Champs Headed to NCAA Tourney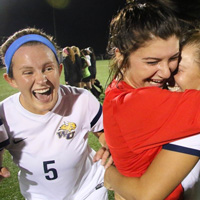 After its thrilling win to capture its 13th St. Louis Intercollegiate Athletic Conference Championship (SLIAC), the Webster University women's soccer team will play Loras College in the first round of the NCAA III Regional, on Friday, Nov. 10, in Dubuque, Iowa. The Gorloks secured their place in the NCAA III Championships with a 1-0 win over Fontbonne University in the SLIAC Tournament on Saturday, Nov. 4.
The DuHawks of Loras come into the contest at 14-1-3 and ranked second in the latest North Region poll. Webster (19-1), ranked seventh in the latest Central Region poll, and Loras have only met one time before last year at the Soccer Park. Loras won the game 1-0 as they made a first half goal stand up in the win. Loras was the champion of the Iowa Intercollegiate Athletic Conference and are a perennial power in the league, having been to the NCAA III 'Sweet Sixteen' as recently as 2012.
Gorlok Accomplishments
Webster broke the team record for victories in a season with the 19, eclipsing the 18 wins in 2001. The Gorloks won a sixth straight regular season title and were a perfect 9-0 SLIAC season for the fourth time in the last five years. Webster has won nine of the 15 SLIAC Tournaments held since the inception of the program in 1999.
The Gorloks sport an explosive offense, with five players having nine or more goals, and one of the stingiest defenses in the NCAA III, allowing just 13 goals in 20 games and recording 10 shutouts of opponents. The DuHawks have four players with seven or more goals on offense, and have allowed just 16 goals in their 18 games this season.

For the NCAA III Championships, sixteen four-team sites will conduct first- and second-round play on Friday and Saturday, Nov. 10-11 or Saturday and Sunday, 11-12. Second-round winners will advance to one of four sectional sites on Friday and Saturday, Nov. 17-18 or Saturday and Sunday, Nov. 18-19. All games through the semifinals and final will be played on the campus of host competing institutions.
Follow Women's Soccer
This will be Webster's 13th trip overall to the NCAAs and fifth in the last six years. Fans can follow the Gorloks live at the regional tournament by video and live stats.