Webster Psychology Professor Receives National Distinguished Teaching Award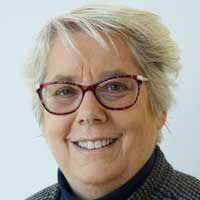 ST. LOUIS - Professor Linda Woolf was awarded the Charles L. Brewer Award for Distinguished Teaching of Psychology by the American Psychological Association/American Psychological Foundation (APA) last month. Only one professor of psychology in the United States is selected for the award annually. It is considered one of the highest life-time achievement awards in the profession of psychology.
In addition, Woolf was elected by her peers to serve as President of the APA Division 2: The Society for the Teaching of Psychology. She previously served as President of APA Division 48: Society for the Study of Peace, Conflict, and Violence.
"As honored as I am to receive this award, I recognize that it is only possible because of the unique nature of Webster University, which fosters not only teaching excellence but also teaching innovation, research, and scholarship," Woolf said when she learned of the award. "It is a feather in the cap for the university! I am also extremely grateful to all of my colleagues in the psychology department, who have supported and worked with me through the years."
Woolf's association with Webster University spans most of her life. She earned her bachelor's degree from Webster in 1979 and then earned a master's and Ph.D. in psychology from Saint Louis University in 1986 and 1988. Woolf has been teaching at Webster University since 1986, initially as a lecturer, attaining a full professorship in 2003.
In 2000, Webster University honored her with the William T. Kemper Award for Excellence in Teaching, the highest award offered by the University to its faculty. She currently teaches in both the Psychology Department and the Center for International Human Rights in the College of Arts & Sciences.
Woolf also graduated in 1996 from the Yad Vashem Institute, Holocaust Studies for Educators, Yad Vashem: The Holocaust Martyrs' and Heroes' Remembrance Authority, Har Hazikaron, in Jerusalem, Israel; and successfully completed the program at the Eastern European Study Seminar Holocaust Educational Foundation in 2001.
Woolf has a wide area of research interests, including ethics, social justice and human rights, peace psychology, psychosocial models of genocide, Holocaust studies, terrorism, torture, hate groups, international psychology, and LGBTQIA+ social justice concerns.
"Linda is one of the finest faculty members I have ever worked with and she has earned the respect and admiration from her peers and her students," said Webster University President Julian Z. Schuster. "She is truly an amazing teacher; however, she doesn't limit her teaching to the classroom. Linda frequently makes public appearances or shares her thoughts through various publications that demonstrate how psychology has numerous applications in the world around us. It is my privilege to work with Linda and I wholeheartedly congratulate her on this well-deserved national recognition."
In 2012 to 2013, she served as chair of the APA Member-Initiated Task Force to Reconcile Policies Related to Psychologists' Involvement in National Security Settings after it was revealed through Congressional investigation that psychologists were advising the Federal Government on how to extract information from prisoners being held in U.S. Custody at sites around the world. In 2015, she and other psychologists led the national call for a moratorium on psychologists collaborating with government interrogators.
Woolf also has been a frequent lecturer on hate groups, giving public lectures at various public forums throughout the country, including "Hate Crimes, Hate Speech," "Hate, Many Layers, All Destructive," "Nazis in America," "The KKK: a Group of Terror and Hate" and "The Many Faces of Hate."
She is an exceptional researcher and has authored or co-authored papers in peer-reviewed professional journals and book chapters more than 90 times in the past 20 years; however, she also is a household name to some, as she is a frequent columnist in the popular magazine Psychology Today. She also authored the Op-Ed "Does the President Owe the Boy Scouts an Apology?", which was published in the St. Louis Post-Dispatch in 2017.
Over the years, Woolf has received many accolades for her teaching and research in psychology. She received a Presidential citation from the APA in 2017 for her work related to human rights and was named a "Champion of Psychology" by the Association for Psychological Science in 2007. In 2004 she earned a Society for the Teaching of Psychology Award from National Institute for the Teaching of Psychology. In 2000 and in 1990, she earned an Emerson Electric Excellence in Teaching Award, a regional award that names the best teachers in the greater St. Louis region at all levels of education.
For more information on Woolf, visit her faculty page at http://faculty.webster.edu/woolflm.