Writing Center Resources for Students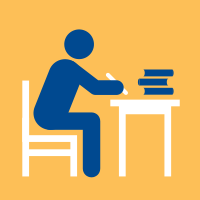 The Writing Center and Online Writing Center (OWC) can give students feedback on essays and help improve their writing.
Students, we encourage you to use the face-to-face Writing Center whenever possible for real-time feedback and discussion.
If you are a graduate student, online student, or a student at an extended or international campus, we encourage you to use the OWC for your writing needs. Our friendly coaches give constructive, holistic feedback on all assignments.
Writing Center Resources
Your time working with a writing coach will be a productive experience.
Your writing coach will maintain standards of professionalism and privacy as outlined through our University's policies and through the Family Educational Rights and Privacy Act of 1974 (FERPA). More information can be found here: webster.edu/student-handbook/ferpa.html.
You can expect your writing coach to know various paper formats, but your writing coach may not have been assigned the exact same paper, or had the same professor, as you.
Your writing coach will read your paper and look at global issues of focus, development, organization, logic, and clarity. While the Writing Center is not a proofreading service, coaches will discuss patterns of mechanical and grammatical issues and provide suggestions on how to recognize and correct them. Coaches will also assist with conventions of documentation and citation.
Your writing coach can make suggestions on how to improve your papers/projects, but your professor expects you to write independently. If you have specific questions about a paper assignment, it is your responsibility to reach out to your professor.
If specified by you, the Writing Center staff will contact your professor only to notify him/her that you visited the Writing Center. No other information will be given per FERPA.
Scheduling information
Please schedule all appointments with your writing coach via our online scheduler at mywconline.com at least 24 hours in advance.
Please be prepared with all relevant materials (hard copy of draft, assignment sheet, outline) in order for our coaches to fully assist you.
Please come with an open mind and a positive attitude!
The Online Writing Center
Do not forget that the Online Writing Center can help you with your paper and project needs. Online writing assistance is available to Webster University alumni, faculty, staff, students attending classes at the extended campuses in the U.S. or across the globe, to students enrolled in online classes, and to graduate students at the Webster Groves campus.
The Online Writing Center is devoted to helping students become better, more confident writers. To send us your assignment, use the WorldClassRoom site. After you select the Help link in the blue global menu, then select the Writing Assistance link. On the following page, you will see resources for students as well as the link to submit your assignment to the Online Writing Center, under the Get Online Writing Help section. That link will take you to the submission form that requests important information about you as a student and your assignment. Be prepared to provide your Webster email address as well as your student ID in the survey.
Once you submit a paper to the OWC, you will be sent an e-mail from us confirming that your paper was received. Your paper will then be passed to one of our coaches, who will do the following:
Read your paper
Comment on global issues (focus, development, organization, etc.)
Mark a few areas for style and convention problems
Ask questions about the assignment
Ask questions about the paper
Make suggestions using the comment function of Microsoft Word
Provide advice for further steps, either for that assignment or for future projects
Return your paper with those marks via e-mail
Send a report to your instructor informing her or him about our commenting (if this option was noted in your submission form).
You can expect to receive your paperback in two to three business days from confirmation that your submission has been received. During peak times such as the weeks surrounding midterms and finals, that turnaround time is slightly longer, around four to five business days. Papers are processed by the OWC staff Monday-Friday, 9-4 p.m., so submissions sent in the evening or over the weekend will not be processed until the following business day. Please keep this in mind when submitting your paper for review to ensure that you will receive feedback before your deadlines or due dates.
If you have additional questions about using the Writing or Online Writing Center, please feel free to contact Kristin Cobos, writing and online writing center coordinator, at kristincobos14@webster.edu.