Nominations for Webster Staff Alliance Board Positions Accepted Through Wednesday, April 24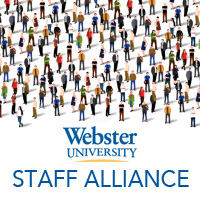 Nominations for open 2019-20 Webster Staff Alliance (WSA) Board positions are being accepted through Wednesday, April 24, 2019. Involvement in the WSA Board is an opportunity to build connections across the Webster network, develop additional professional skills, and collaborate with key members of University Leadership.
The length of each term is two years beginning June 1. Associate Chair positions have the option to advance to the corresponding Chair position if it becomes open during their term. Board members will be responsible for the individual areas, attending two monthly meetings (one with the WSA Board, and one with the President, Provost, and Chief Human Resources Officer) and supporting WSA-hosted events and programs throughout the academic year.
Board Positions
Associate Chair
Secretary
Compensation Chair
Associate Compensation Chair
Communications Chair
Associate Special Events Chair
Gorlok Greats Chair
Learn more about each position and submit nominations by visiting this link.