Snapshots: WSA Ice Cream Social, Drawing Winners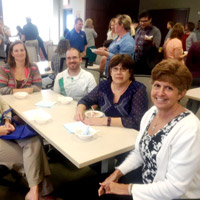 The Webster Staff Alliance (WSA) marked the start of the academic year with an ice cream social in St. Louis, featuring sundaes, music from Galaxy Radio, and the Gorlok on hand to conduct raffle drawings.
Six staff members won Webster swag in the business card drawing held at the event, with the Gorlok doing the honors. (See Facebook video of the mascot conducting the drawing.)
The lucky winners were: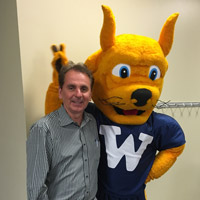 Sherry Haines

, Admissions - Coffee Cup

Maria Hein, Procurement - Tank Top
Jody Paterson, Bursar - Tumbler
Scott Schlichtig, Bursar - T-Shirt
Debbie Ray, Business Department - Planner
Patricia Bausch, Dean's Office/FDC - Umbrella
Share photos of some of the drawing winners in this WSA Facebook post.
See more photos from the event in this post.
Learn more about WSA here.