WSA Scholarship for Extended Campus Staff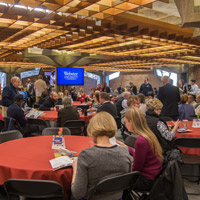 Webster Staff Alliance (WSA) has announced the Webster Staff Alliance Scholarship Award, designed to bring up to three domestic extended site staff members to the home campus in Webster Groves, to participate in either the Embracing Diversity and Inclusion: Critical Conversations (March 1-2, 2017) or WSA Professional Development Day (March, 15, 2017).
The objective of the Scholarship Award is to provide extended campus staff members with an opportunity to connect and engage with the home campus and home campus personnel while participating in a professional development opportunity.
The award will cover the cost for travel (mileage reimbursement or airfare), lodging and food.
Eligibility Requirements
To be eligible for the Scholarship Award, a staff member must meet the following criteria:
Currently employed for Webster University at an extended, domestic campus as a full-time or part-time staff member
Employed at Webster University for more than 1 year
Ability to travel to St. Louis for either March 1-2, 2017, or March 15, 2017
Personal Statement
As application for the scholarship, interested staff members are to provide a personal statement of 500 words or less addressing the following:
Why will attending the Embracing Diversity and Inclusion: Critical Conversations event or the WSA Professional Development Day (select one) benefit you personally and professionally?
How will your attendance impact your ability to connect across the Webster network?
How will attending your selected event positively impact your job performance and benefit your extended

site and the students at your campus?
To Apply
In order to apply for the scholarship, please submit the following:
Scholarship Award Application Form (see attachment [PDF])

Please make a selection on the form indicating which event you would like to attend

Ensure all required signatures are obtained prior to submittal

Your personal statement of 500 words or less
Send your application materials to wsa@webster.edu. Applications are due by Friday, Dec. 23, 2016.
Review of applications will take place by the WSA Board. Selection of recipients will based on the strength of an applicant's personal statement, an applicant's ability to address the above questions, and the networking opportunities attendance provide to enhance the recipient and their extended campus. All applicants will be notified of final decisions by mid-January 2017.