Webster Works Snapshot: Irvine, California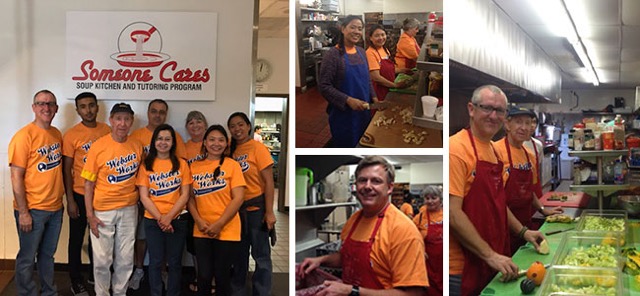 For Webster Works Worldwide, Webster University's annual service day at campuses around the world, nine students, faculty and staff from the Webster Irvine, California, campus location prepared and served location at Someone Cares Soup Kitchen.
Founded in 1986, the organization serves approximately 300 individuals a hot lunch each day at their facility in Costa Mesa, California. They also serve breakfast on the weekends and provide after school tutoring services for local school children.
The Webster Irvine contingent of Gorloks spent the morning cutting up fruit and veggies, juicing oranges and limes, and preparing mashed potatoes and corn.
About Webster Works Worldwide
Annually, Webster University sponsors a campus-wide community service day in partnership with local agencies and nonprofit organizations. Students, faculty, staff and alumni work in teams on projects including tutoring, painting, gardening, working with children or seniors, park and trail restoration, and fine arts projects.
Since the start of Webster Works Worldwide in 1995, over 32,000 volunteers have given more than 141,000 hours of service.