Sign Up! Webster Works Worldwide Project Database Now Open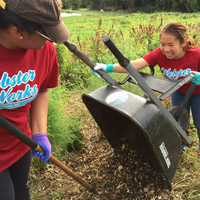 Webster Works Worldwide (WWW), Webster University's annual global community service day, is just around the corner on Wednesday, Oct. 3.
Since the start of WWW in 1995, over 31,000 volunteers have given more than 134,000 hours of service. We hope you will join us in this very important Webster tradition again this year.
Project Database
The St. Louis project database is now open for volunteer registration.
For campus locations outside of St. Louis, contact your local directors and coordinators for information on WWW projects in your area.
For more information about the event, visit the Webster Works Worldwide website.
WWW Opening Event
In St. Louis, a special Webster Works Worldwide opening event is planned for 8 a.m. in Grant Gym on Wednesday, Oct. 3. Mark you calendar for "A Send Off to Fuel your Mind, Body and Spirit" prior to the day's activities.
We will hear some inspirational words, enjoy breakfast together and distribute WWW T-shirts.