28 St. Louis-Area Students Receive Young Citizens Scholarships to Attend Webster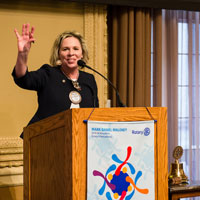 Webster University and the Rotary Club of St. Louis recently awarded college scholarships to 28 students in the St. Louis area. The 28 students were all awarded $5,000 scholarships renewable for three years for a total of $20,000 if they apply and are accepted to Webster University.
The purpose of the Young Citizenship Award is to find and reward those students who work hard at being good citizens at home, at school, and in the community.
The program is designed to recognize and encourage youngsters who are honest, hard-working, helpful, and fair. In practice, the Young Citizenship Award provides classroom teachers with a useful tool to further motivate promising students. It also gives exchanges to an enjoyable opportunity to supply the encouragement that can be so vitally important in shaping the characters of youngsters at an impressionable time in their lives.

" We have expanded this tradition to include the young citizen awardees with their own potential educational journey," said Beth Russell, assistant provost for Graduate Studies and president of the Rotary Club of St. Louis. "Working with our young citizens has not only enriched us as an institution but has also brought forth diversity and inclusion dialogues that inspire deeper conversation and opportunities to learn from each other in a global academic environment."
2020 Young Citizens
Tran Thach, Stephen Walker, Nottingham CAJT
Terriel Herndon, Andrew Hudson, Carnahan High School

Nikkita Dismuke, Ali Hall, Central Visual & Performing Arts

Serenna Stocker, DeShaun Russell, Cleveland NJROTC

Gabriale Millender, Devin Harris, Clyde C. Miller Career Academy
Asra Albaaj, Trishten Gregory, Collegiate School of Medicine & Bioscience
Jennifer Theodore, Pukar Basnet, Gateway STEM
Haley Clegg, Quinton Keller, McKinley CLA
Ava Farrar, Layth Aljorani, Metro Academic & Classical
Janell Johnson, Keisha Watkins, Northwest Academy of Law
Zarria Mackins, Maki Shukuru, Roosevelt High School
Brandnesha Duncan, D'Marco Gibbs, Soldan International Studies
Danise Harris, RaiSean Booker, Sumner High School
Fatima Ndon, Domonic Archie, Vashon High School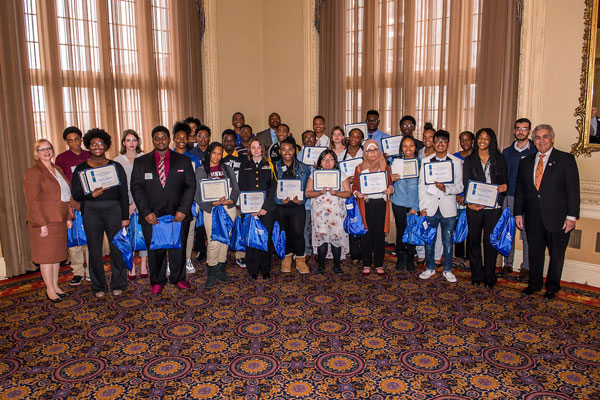 For over 30 years, Webster University and the Rotary Club of St. Louis have partnered to provide a pathway for young community members seeking opportunities in higher education.