Webster Graduate Releases Best-Selling Album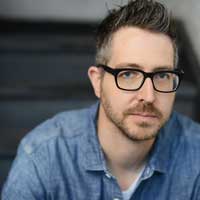 BALTIMORE - Described by Fingerstyle Guitar Magazine as "…one of his generation's finest guitarists," Zane Forshee, who earned his Bachelor of Music in Performance from Webster University in 1998, has released a verified hit record. His new album "Valenciano" was ranked as the number one new release and number one best-selling album of the week by Amazon in early February. The new record also was listed at number 6 on the Billboard Charts in Classical Crossover on February 19th.
Forshee didn't become a best-seller overnight. Driven by his lifelong love of music, his humble beginnings are familiar to millions of musicians before him - he started out as a broke graduate student, living hand-to-mouth, honing his skills and working towards a performance degree. " Any kind of career in the arts is tricky. There's no clear path. I mean, you really are cutting your own way through the jungle," he said.
It was in cutting his own path that Forshee was able to navigate the 10-year journey of making this album. A Fulbright Grant gave him the opportunity to live in Spain while he worked on his doctoral thesis about Spanish composer Vicente Asencio. "As I researched the work of Asencio, I started learning about the musical scene he was in with the other Valencian composers, and how tight-knit they were in terms of studying styles and working around each other. These artists were all inspired by one another," he said.
His research turned into a desire to make an album featuring the works of Asencio and two other Valencian composers. "It really just kind of became this project as I got further into it. It slowly came to me, 'oh, I can do a whole recording of all of these things.'"
Forshee was particularly curious about one of Asencio's scores, "The Collectici Intim," which is a work of five movements. "If you sat down and listened to different guitarists play through it, everybody changed certain parts," he said. "I thought, 'that's not what's written; why are they changing it?'"
His former teacher and current colleague Ignacio Rodes happened to have the manuscripts to each of the movements. "He had a close relationship with Asencio's wife, Matilde Salvador. And that connection allowed me to really see from the perspective of Asencio what his intentions were for those pieces. So that's what this recording is really about: capturing what Asencio originally wanted."
After he returned from Spane and finished his thesis, Forshee needed a breather. "I was really burned out and kind of on the fence about 'do I finish this or not?'" he said. "A few years of touring and teaching went by, and then my wife told me we were going to have a baby and that I needed to finish the record, or it was never going to happen."
"And so, in the fall of 2014, I flew to Berlin, Germany, and recorded half the album in two days, and then we did the other half in three days during the summer of 2016," Forshee said. "And I'm really proud of it. It was very difficult music to physically play, and it's not easy to interpret, either."
His hard work paid off, and Forshee said it wouldn't have been possible without a few key people, particularly every teacher he's ever studied under, his recording engineer Alex Klein, David Veslocki at Frameworks and Sony's The Orchard, his network at Johns Hopkins and Peabody, and German film composer Christian Biegai. "He is really the one who kind of helped me start the process of recording in general. He's just been such an inspiring force for me to keep going," he said. "And my wife, Susan Bacich, was the person who I really had on my team when I was feeling down in the dumps about everything."
Forshee said the most fascinating part about being number one on the Amazon best-seller list and number six on the billboard charts was that his album was self-made. "T he albums and products that hit that high up usually have a label pushing behind them. But I'm an unsigned artist in terms of management; I do most of my own booking, and this project was self-funded," he said. "The Billboard Charts are the standard in the music industry, and to be on the same list with John Williams and Rod Stewart is mind-bending. It went way beyond what I thought it could do."
He also said the experience was humbling. "I had very low expectations—so to end up where we did was completely astonishing and surprising. I just feel overwhelmed and very grateful that people would even want to spend their time listening to what I've worked on."
But what Forshee is most excited about is what his experiences mean for the students he teaches at Peabody. "I will actually be able to show and teach my students a lot of the things that I did and learned, and the contacts I'm making through this process so that they can meet these people and really learn from them."
"Learn as much as you can from everyone," Forshee advised aspiring artists. "Don't pigeonhole yourself to one style. I can't express how important it is to be diverse in what you can do as an artist, because you are going to do all kinds of different things."
To listen to or purchase Forshee's album, go here.