Webster Alumna's 'Easy-Bake' Film Earns Multiple Awards at St. Louis Showcase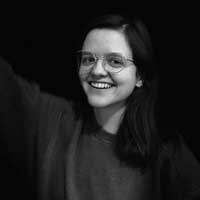 ST. LOUIS - The last thing that Zoë Kennison expected when she majored in religious studies at Webster University was to win seven awards for filmmaking. But that's exactly what happened. Kennison, who graduated from the College of Arts & Science in 2015, discovered her passion for film through other Webster students. She made a feature-length film - "Easy-Bake" - and submitted it to the St. Louis Filmmakers Showcase this spring.
This month, she learned she took seven awards, including Best Narrative Feature and People's Choice Award for Best Narrative Feature. Besides these two awards, Kennison also won Best Actress, Best Director, Best Editing, Best Screenplay, and Best Drama. She was even crowned Queen of the 2020 Royal Court at the festival.
Kennison got her first experience with filmmaking when her roommate, Lindsy Lyner, a student in Webster's film program in the School of Communications, asked for her to act in a film project. It was through Lyner that Kennison met Kristin Rolla, another Webster film student. "Kristin didn't know what to write about for her senior overview, and I was telling jokes about how I used to be a camp counselor and hilarious stories from camp, and she was like, 'This is what I want to make my movie about.' So we wrote her senior overview together. It took us her whole senior year to make this 11-minute short movie, and we had a blast, and I loved writing it, and I realized, 'Oh, I really enjoy writing scripts,'" she said.
"After college I had the bug for writing scripts and writing things that are important to me, like how women are portrayed in media. That's something I have a huge issue with," Kennison said. "Kristin and I made a few YouTube shorts that I wrote poking fun at how women in tampon commercials and beauty commercials are portrayed, and Kristin would shoot them beautifully and we had this really nice relationship doing small-potato things. Then I approached her saying, 'I've been working on a movie; I would really like to make a feature film, and I would like you to be the cinematographer.'"
Kennison said the movie, "Easy-Bake," took four years total to make, two and half years of which were spent filming. Of those two and a half years, her and her crew could only film one day a month, to work around Rolla's tight videographer schedule.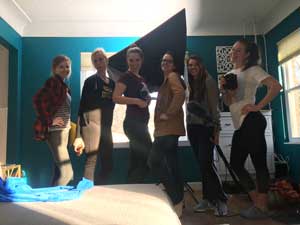 She said the main thing that kept her motivated to finish the lengthy project was that she had a big support system of people who believed in it. "And I would feel bad," she added. "Kristin gave us 18-hour days on her one day off a month, so if I had just said 'You know what, this is too hard,' I would have felt terrible for her giving up all of her time."
Even though the degree she completed in December of 2015 was not a film degree, Kennison said that she still drew from the things she learned in her Religious Studies classes while making "Easy-Bake." "Taking religion classes really opens up your mind and expands your way of thinking of how other people experience life. It leads you to question things, like why things are the way they are," she said. "A lot of times, I don't think we get the opportunity to do that. We subconsciously just accept how the world is around us but once you question it, you can really take a deep dive and make creative and interesting stories."
"Learning about other religions and cultures makes us break down our own culture's traditions and look at our values," she continued. "It made me a better writer and made me question why we value procreation so much? When a girl gets her period for the first time, why do we say, 'Oh, you're a woman now?' "Does being able to bear a child make you a woman? Well then what does that make me, if I can't bear a child? Am I not a woman? This idea is also transphobic to hinge womanhood on being able to menstruate. There are so many layers and often misplaced values on child-bearing"
And those values are essentially what "Easy-Bake" challenges, according to Kennison. "The film is about the societal pressure put on women to have children. When I was a junior in high school, I was diagnosed with Poly-Cystic Ovarian Syndrome (PCOS), which one in 10 women have, and that comes with the possibility of infertility," she said. "I remember it not feeling like a big deal at the time for me because I've never wanted children. But the adults in my life made it a bigger deal, and so I have always been very aware of my possible infertility."
"I think a lot of women are told, 'Oh, you better have a kid before you're 30.' You know, that's the cutoff. And women are always aware of that and always have this pressure to have children," Kennison said. "So that's kind of what helped me come up with the script. It's about a 22-year-old being told that she only has a year to have a kid or that's it, her window's closed, so I just wanted to use this heightened ticking-time bomb to illustrate the unfair pressures put on women to conceive."
According to Kennison, her entrance into the Film Showcase was somewhat of a happenstance. "I finished my movie in January and had submitted it to a few festivals, but then COVID-19 hit and I pumped the brakes on submitting anymore because there were bigger things to worry about and my movie didn't feel important in the global context," she said. "Then, by chance one night I saw a post about the showcase, and I thought, "Oh yeah, I should submit to that.'
"I looked online, and submissions were closed, but I emailed the director telling him about my movie, the crew and the work, and he actually watched it the day he was going to announce the films that made it into the showcase. I made it in in the eleventh hour and he accepted it. So that was amazing that I got it in, and that people were watching my movie. It was just such a surreal experience."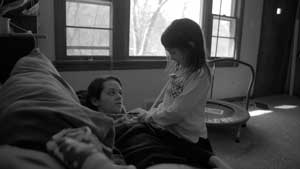 Kennison said another part that was unreal to her was the responses she got from people. "I had a lot of people who aren't necessarily close friends, but people I knew in high school, reach out to me saying, 'Hey, I watched your movie and it really spoke to me. You told a story that was similar to my own,' or 'I also have fertility issues and it's not talked about enough, and it's really great that you presented it in such a realistic way.'"
"So often, women are not given the chance to be on film crews, behind the camera," Kennison said. "And even though the movie took me four years to make, I wouldn't have changed a thing because I want to show that if you want women or BIPOC or LGBTQ people in your movie, seek them out, and they will deliver. It's not an excuse to say you only know the men who you usually make movies with. Intentionally seek out other perspectives." she said.
"This movie won seven awards as my very first movie, and that's a big deal," Kennison continued. "It shows that people respond to movies that are made by women and have a cast that is mostly women. It can be done, and it can be successful. That's the thing I really wanted to push with my movie. That's my agenda, I guess."
Kennison's film was selected to be shown again at the St. Louis International Film Festival and will compete in the New Filmmakers Forum Competition. It will be available to stream from Nov. 5-22.