Webster in Military Times Ranking for Fifth Consecutive Year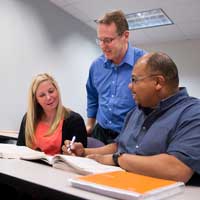 SPRINGFIELD, VA – Webster University was listed in the Best for Vets: Colleges 2017 rankings by Military Times today. This is the fifth consecutive year that Webster University was named on the annual list.
More than 500 colleges took part in this year's detailed survey and 130 of those were ranked. Webster University was listed at #39.
"Webster University takes great pride in the services we offer to members of the military, veterans and their families," said Sean Coleman, associate vice president of U.S. Military Campuses and Government Programs for Webster. "To have the University ranked so high is a credit to all the men and women involved in Webster's military program."
Best for Vets: Colleges 2017 is an editorially independent news project that evaluates the many factors that help make colleges and universities a good fit for service members, military veterans and their families.
The annual survey asks colleges and universities to meticulously document a tremendous array of services, special rules, accommodations and financial incentives offered to students with military ties; and to describe many aspects of veteran culture on a campus. These institutions were evaluated in several categories, with university culture and academic outcomes bearing the most weight.
Military Times also factors in data from the Veterans Affairs and Defense departments, as well as three Education Department sources: the IPEDS Data Center, College Scorecard data and the Cohort Default Rate Database. For the full Best for Vets: Colleges 2016 rankings, as well as its survey methodology, visit: www.militarytimes.com/bestforvets-colleges2017.
The rankings are published in full in the issues of Army Times, Navy Times, Air Force Times and Marine Corps Times on newsstands the week of Nov. 9; and online at MilitaryTimes.com, as well as ArmyTimes.com, NavyTimes.com, AirForceTimes.com and MarineCorpsTimes.com.
With its home campus in St. Louis, Missouri, USA, Webster University (www.webster.edu) comprises an action-oriented global network of faculty, staff, students and alumni who forge powerful bonds with each other and with their communities around the globe. Founded in 1915, Webster is a private non-profit university with nearly 17,000 students studying at campus locations in North America, Europe, Asia and Africa and in a robust learning environment online. The university is committed to delivering high-quality learning experiences that transform students for global citizenship and individual excellence.