Webster Athletics Announces 2018 Hall of Fame Inductees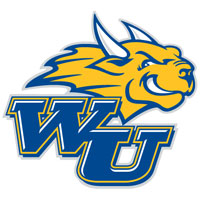 Webster University and director of athletics, Scott Kilgallon, are pleased to announce five Gorlok greats as the newest members of its Athletics Hall of Fame.
The 2018 inductees include; two of the top sharp-shooters and scorers in Webster men's basketball history, a midfielder for men's soccer who solidified the young program plus a defender who helped make it a perennial conference contender, and a volleyball player who led the Gorloks to the school's first SLIAC Championship, while making that program a perennial conference power as well.
The 2018 class will be inducted on Feb. 10, 2018, in a ceremony at Webster's University Center, bringing the total Hall of Fame membership to 39.
2018 Athletics Hall of Fame Class
Molly (Farrell) Orlando, BA '96, Volleyball
Orlando was a major building block in transforming the women's volleyball program into a yearly title contender in the SLIAC. The team had its first successful season the year previous to her arrival in 1993, at 9-3 in the SLIAC, but 2-8 non-conference. Webster again went 9-3 in the SLIAC in Orlando's first season, but won its first SLIAC Tournament as the team went 18-6 overall. In 1994, Webster won its first SLIAC title at 12-0 and the tournament again, going 20-5 overall.
In Orlando's final season, the Gorloks once again won both the conference title and tournament as they finished 23-9. Orlando was SLIAC Newcomer of the Year in 1993, and SLIAC First Team All-Conference, 1993, 1994, and 1995. Despite playing just three years, Orlando dominates the Webster volleyball career record book in: attack pct. (1st), kills per set (3rd), block solos (2nd), block assists (2nd), total blocks (2nd), block per set (1st), points (4th), points per set (1st), and kills (9th), and the season record book for: attack pct. (1st), total blocks (2nd), and points per set (1st).
After graduating from Webster in 1996, Orlando completed an RN degree at St. Charles Community College and now runs her own company, Building Blocks Nurse Consulting, LLC. Orlando also sings professionally, recording and playing live with several bands. She and her husband, Michael, and son, William, live in Erie, CO.
Alex Fritts, BA '99, Soccer
Fritts, a defender, helped take the Webster men's soccer program from being competitive in the SLIAC, to a perennial title contender. As a four-year player, from 1996-99, Webster was 26-5-3 in the SLIAC as Fritts helped backstop the Gorlok defense. He was SLIAC All-Conference Honorable Mention in 1997 and 1998.
Head coach Marty Todt noted, "As a player, Alex's hard work, commitment and dedication made him one of the best defenders we ever had. A major characteristic was his leadership, and after two knee surgeries, he worked harder and pushed himself to do better. These qualities provided a positive example to his fellow teammates, making him the only three year captain for the Men's Soccer team. He led the Webster defense in 1999, which finished as the fifth best defensive team in the nation."
Fritts was the vice president for Webster's SAAC for two years. Upon graduation, he was an assistant and associate head coach for men's soccer for 11 years while working full time and raising a family. In his fifteen total years as player and coach, he was an integral part of five Webster NCAA appearances.
Fritts graduated with a degree in business administration from Webster in 2000 and completed an MBA from Missouri Baptist University. He worked as a sales representative at several companies before landing at Excelsior Medical as its Territory Manager, and is currently director of sales for BeliMed. He is married to Jennifer, a former Webster student athlete as well, and they have four children; Owen, Nora, Iris and Wren.
Scott Spinner, BA '07, Basketball
Spinner amassed 1133 points as a guard for the men's basketball team, the 10th highest total in program history. He is Webster's all-time leader in assists (396), fourth in three-pointers (159) and sixth in steals (143). Spinner is also the Gorloks' all-time leader in games started, minutes played, and second in games played. A two-year captain, Spinner was SLIAC First Team All-Conference in 2004-05, and Second Team 2005-06 and 2006-07. Spinner also holds the single game record for three-point shooting percentage at .889 (8-9). He was named the Webster Athletics 2006-07 Student Athlete of the Year.
Scott graduated from Webster in 2007 with a bachelors in psychology and completed a Master's of management from Fontbonne University. He was head men's basketball coach and athletic director at Lindenwood University-Belleville from 2009-17. While at Lindenwood-Belleville, he oversaw the program grow to 35 sports, and as the head men's basketball coach, averaged over 20 wins per year.
Scott is now Executive Director of the Monroe County and Randolph County YMCA. He is married to fellow Webster Hall of Famer, Crystal Shelton Spinner, and they have three children, Madison, Allison, and Naomi.
Jeff Todt, BA '95, Soccer
As a distinguished midfielder at community college power Forest Park, Todt brought his wares to Webster's men's soccer program and helped establish the program as a contender in the St. Louis Intercollegiate Athletic Conference. Todt was SLIAC First Team All-Conference and NSCAA All-Region in 1992 and 1993. He was also NSCAA Academic All-Region in 1993. Todt led the Gorloks in scoring both seasons, with the team-high in goals in 1993 and in assists in 1992. In Webster men's soccer record book, Todt is seventh in points per game, tied for ninth in game winning goals, 16th in goals, and 18th in points. He was the Webster Athletics 'President's Award' winner for 1993-94.
As described by his coaches, he was the 'perfect' role model, a dedicated player on the field and excellent student in the classroom.
Todt graduated with a BA in business (emphasis in accounting) in 1995. After working seven years at the Deloitte & Touche accounting firm, he has worked 10 years at McBride & Sons and is currently the vice president of accounting. He is married to Emily Todt and they have three children, Audrey, James and Abigail.
Paul Zellmer, BA '00, Basketball
As a guard, Zellmer wound up with the third highest point total in Webster men's basketball history, with 1284, and was its most prolific three-point shooter. He is first in three-point field goals (247), third in steals (168), fourth in scoring average (16.5), fifth in assists (264), and ninth in free throws (189). Zellmer was SLIAC First Team All-Conference in 1997-98 and 1999-00, and Second Team in 1998-99. In 1998-99, he was a Street and Smith's preseason Honorable Mention All-American. He was a member of the first Webster men's basketball team to win the SLIAC title and advance to the NCAA Championships in 2000.
A graduate of Janesville Craig High School in Wisconsin, Zellmer graduated from Webster with a BA in business management (marketing emphasis) in 2000 and he completed a Masters in healthcare administration from Bellevue University.
He was a branch manager for Enterprise for four years, internal auditor for Mercy Health for two years, and clinic manager for the Dean Clinic for eight years. Zellmer currently is the director of Ambulatory Operationsat UW Health in Madison, WI. He is married to Nicole Zellmer, and they have two children, Olin and Reese.
About Webster's Athletic Hall of Fame
The Webster University Athletic Hall of Fame was established in 2010 to honor those who reflect the Department's mission of success in the classroom, the community, and the arena of competition. Former players, coaches, and other individuals who have made significant contributions to the program, are eligible for selection.