Vice Chairman of Joint Chiefs of Staff Named 2017 Commencement Speaker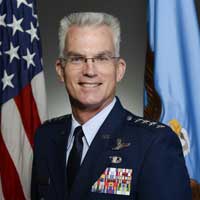 ST. LOUIS – Gen. Paul Selva, the 10th vice chairman of the Joint Chiefs of Staff, will be Webster University's 2017 Commencement Speaker.
Selva, a four star Air Force general, is the nation's second-highest ranking military officer. He will address more than 10,000 Webster graduates and guests at the University's 98th annual commencement ceremonies May 13 at St. Louis' historic The Muny outdoor amphitheater in Forest Park. He will receive an honorary Doctorate of Laws for his career accomplishments.
"Webster University has a long and proud tradition of offering education programs directly to members of the military and their families. For that reason, General Selva is an ideal speaker for this year's Commencement Ceremony," said Elizabeth (Beth) J. Stroble, president of the University. "During his long career in the Air Force, he has provided distinguished service in many key leadership roles, worked closely with members of Congress, the White House and Secretary of State. General Selva brings a singular intellect, grace and style to the role of the Vice Chairman of the Joint Chiefs of Staff. For us, he represents Webster ideals in action."
In the nomination letters for Selva, he was described as a person who "epitomizes cross-cultural connections and sustainability." He was praised for his ability to build bridges between multiple governmental agencies, for providing "invaluable advice" to senior members of government regarding military issues, and for showing "superb and motivational leadership as he and his team dealt with the demands of 9/11 and the aftermath."
Selva graduated with a bachelor's in Aeronautical Engineering from the U.S. Air Force Academy in 1980, a master's in Science Management and Human Relations from Abilene Christian University in 1984, and a master's in Political Science from Auburn University in 1992. He also graduated from Squadron Officer School in 1983, the Air Command and Staff College in 1992, and attended the National Defense Fellow, Secretary of Defense Strategic Studies Group in 1996.
During his years in the Air Force, he has served on numerous assignments, including as vice commander and commander of the Tanker Airlift Control Center, commander of Air Mobility Command and commander of U.S. Transportation Command, all at Scott Air Force Base. He has served as vice chairman of the Joint Chiefs of Staff since 2015. He has earned numerous awards and decorations, including the Defense Distinguished Service Medal, the Distinguished Service Medal, the Defense Superior Service Medal and the Legion of Merit with two oak leaf clusters.
"Commencement is a time to celebrate the achievements of all of the graduating students, and in doing so, we select a commencement speaker who can share words of inspiration to start their post-graduate lives on a positive note," said Julian Schuster, Webster's provost, senior vice president and chief operating officer. "Gen. Selva is just the right person to strike the right tone for this year's Commencement, as his astonishing achievements inspire all of us as we move forward with our careers and lives."
The main Commencement ceremony will start at 9:30 a.m. in the main seating area of The Muny. For more information on Commencement, visit www.webster.edu/commencement/commencement.html.
With its home campus in St. Louis, Missouri, USA, Webster University (www.webster.edu) comprises an action-oriented global network of faculty, staff, students and alumni who forge powerful bonds with each other and with their communities around the globe. Founded in 1915, Webster is a private non-profit university with nearly 16,000 students studying at campus locations in North America, Europe, Asia and Africa and in a robust learning environment online. The university is committed to ensuring high-quality learning experiences that transform students for global citizenship and individual excellence.