HLC Focus Sessions for Faculty and Staff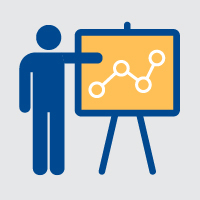 Webster University's next comprehensive visit from the HLC will take place in March 2018. In preparation, a working group is gathering evidence to demonstrate that Webster meets the five criteria for accreditation and developing a first draft of the assurance argument.
This spring, the working group will offer "HLC Focus Sessions" on key areas of accreditation.
The sessions are not arranged by criteria, but by topic and key audience, so please review the topics and audiences outlined below.
The sessions are designed to provide information, but also to solicit information and examples that support our assurance argument. They are interactive workshops aimed at producing material to include in our submission to HLC.
Please review the schedule below. It's important that key people attend the relevant sessions, so please RSVP today! Refreshments will be served. RSVP to: oacadaff@webster.edu and please indicate which session(s) you will attend.
Extended campus community members: Following these workshops, the HLC working group will follow up with domestic and international campuses to provide key information and gather additional evidence supporting criteria through webinars and on-site meetings.
Focus Session #1: Faculty Qualifications and Evaluations
Tuesday, March 21, 3-4:30 p.m., Faculty Development Center
Who should attend? Deans, Chairs, Program Directors/Heads, Faculty
What will we cover? 1) HLC Guidelines for Determining Qualified Faculty and 2) HLC Core Components and Subcomponents on faculty qualifications and evaluation. This is a "show and tell" session for the academic departments. Faculty and staff facilitators will directly contact deans and chairs with more detail and materials.
What's the goal? Ensure that all departments have – or will soon have – faculty qualification guidelines and a plan to update faculty files if needed.
Contact person: Rita Smith, Academic Affairs
Session #2: Academic Program Review and Assessment
Tuesday, March 28, 3-4:30 p.m., Loretto Hall 402
Who should attend? Deans, Chairs, Program Directors/Heads, Faculty
What will we cover? HLC Core Components and Subcomponents on academic program review and assessment of student learning.
What's the goal? Share models and document evidence in the above areas.
Contact Person: Erik Palmore, Faculty Development Center
Session #3: Student Support – People and Processes
Tuesday, April 4, 3-4:30 p.m., Loretto Hall 402
Who should attend? Staff in units supporting students including: Advising, ARC, Library, Financial Aid advising, Student Affairs units, Study Abroad
What will we cover? HLC Core Components and Subcomponents on student support services and staff member qualifications and training
What's the goal? Brainstorm and generate evidence of how Webster provides student support services, qualifies and trains staff, and continuously improves student services
Contact Person: Laura Wainz, Academic Affairs
Session #4: Academic Quality and Planning
Tuesday, April 11, 3-4:30 p.m., Faculty Development Center
Who should attend? Deans, Chairs, Program Directors/Heads, Faculty, Academic Staff
What will we cover? HLC Core Components and Subcomponents on quality of academic programs, quality assurance, and academic planning
What's the goal? Share models and document evidence in the above areas.
Contact Person: Michael Cottam, Online Learning Center
Session #5: General Education
Tuesday, April 18, 3-4:30 p.m., Loretto Hall 402
Who should attend? Faculty and staff working with the Global Citizenship Program (GCP)
What will we cover? HLC Core Components and Subcomponents on general education, including the GCP's purpose, content, and learning outcomes
What's the goal? Review and enhance evidence gathered to date; develop cases and examples to support how Webster meets these components.
Contact Person: Nancy Hellerud, Academic Affairs