Professor, Alumni Fight for Missouri's Forgotten Women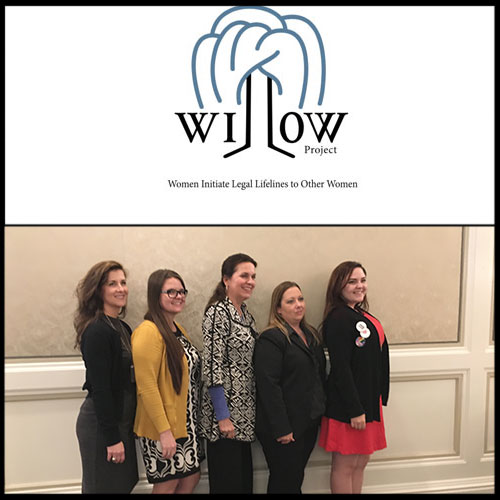 Student-teacher relationships sometimes go beyond the classroom, and that's what happened for Webster associate professor Anne Geraghty-Rathert and her student Amy Lorenz-Moser.
After graduating from Webster and later completing law school, Moser began representing women who were incarcerated for murdering their abusers. Her commitment to fight for her clients has successfully played a role in the release of several domestic survivors from prison throughout the years. Moser also received the honor of being named the American Bar Association's Lawyer of the Year in 2013.
Throughout Moser's years of practice, she and Geraghty-Rathert, also a practicing attorney, remained in contact with and support of one another. While leaving one of Moser's award ceremonies, Geraghty-Rathert reminded Moser about her willingness to assist Moser with any cases she had.
A week later, Moser called Geraghty-Rathert about a case. The case involved a woman named Angel Stewart, who as a child was physically and sexually abused by her father. When Angel was 12 years old, she ran away from home and began living on the streets, working as a prostitute. At 19, Angel was kidnapped and physically, mentally, and sexually abused by two male ex-convicts in Iowa. After suffering abuse for weeks and being held against her will, the men dragged Angel along on a crime spree, kidnapping and murdering two elderly women from the neighborhood.
When police caught up with them, one of the captors implicated Angel in the murders as well.
So, Angel was charged with first degree murder and first degree kidnapping along with both men. But, after being threatened with the death penalty in Missouri, Angel took a plea bargain to kidnapping rather than murder, receiving life sentences in both Missouri and Iowa.
"Basically, at that point, if you take a plea you don't have any real appeals left," said Geraghty-Rathert. "So, Angel is charged along with them although she didn't do anything. But she can't defend herself. She can't read; she can't write. She's very low mental functioning, having about the mental age of a 10-year-old. So, virtually, the only thing she really has left at that point is the possibility of clemency; she has to be pardoned by the governor."
It was with Angel's case that the WILLOW Project was born. The WILLOW (Women Initiate Legal Lifelines to other Women) Project focuses on improving the lives of women who have limited access to the justice system because of poverty, oppression, exploitation, violence and another injustices. The WILLOW team is driven to advocate for justice, striving to empower women by providing them with a legal voice and thus encouraging lasting change.
More Cases Emerge
As Geraghty-Rathert continued to fight for Angel to be granted clemency, she knew she couldn't handle this journey alone. That's when former students Eileen McManmon, Shane Kincaid, Krystal Schaaf and Madeleine Rouse stepped in, all originally as interns, and all in different semesters. All four have continued volunteering their time with The WILLOW Project after graduating from Webster with degrees in Legal Studies, and all are now board members for the project.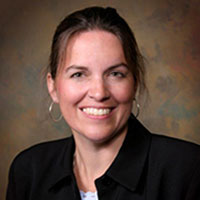 After representing Angel for four years, Geraghty-Rathert received a letter from a woman in prison named Amelia Bird. She became WILLOW's second client. Amelia was also a survivor of physical and sexual abuse. At the age of 16, she told her ex-boyfriend about being abused; her ex-boyfriend decided to take matters into his own hands, breaking into her house one night and shooting her parents while they were sleeping. Amelia's mother was killed, her father was severely injured, and Amelia and her ex-boyfriend were both charged with murder and first degree assault.
"She was charged along with him because she had said on many occasions to all kinds of people that she wished her parents were dead," said Geraghty-Rathert. "The other thing was she kept telling people about the abuse, like teachers and counselors, and she even checked herself into a mental health facility, telling them that she was suicidal and homicidal but they kept sending her back to her extremely abusive family. They even gave her medication and her father wouldn't let her take it. So, it seemed logical to charge Amelia along with her ex-boyfriend."
After being threatened with the death penalty, Amelia pleaded guilty to second degree murder and first degree assault. She is serving two consecutive life sentences and will not be eligible for parole until she is at least 60.
As the fight for Angel and Amelia continued, Geraghty-Rathert was soon informed about another woman who was an incarcerated survivor of abuse. With such a limited staff and already representing two clients, Geraghty-Rathert was not expecting to take on another client so soon, but a month after taking on Amelia's case, Anne's colleague shared an article with Geraghty-Rathert about a woman named Amanda Busse. Wanting to learn more about Amanda, Geraghty-Rathert reached out to the reporter who wrote the article. She asked the reporter if Amanda had an attorney, and he told her that she did not. So, Geraghty-Rathert contacted Amanda to see if she was open to talking with her.
In Amanda's case, she had not only been physically and sexually abused by her father, but at the age of 17, her father sold her to a 36-year-old man who was involved in a drug ring. The violence she experienced growing up didn't end there; it continued at the hand of her now "husband" who was feared in the community and who controlled and psychologically abused her. A drastic turn occurred when a local woman's brutally beaten body was found. Amanda's "husband" and father were charged with the crime, but her father's charges were later dropped. No one ever implied that Amanda was involved.
But six years later her younger brother, out of retaliation for her reporting him to the police for child molestation, implicated Amanda in the crime. Amanda was arrested in 2003 and convicted the following year of second degree murder. She was sentenced to 25 years in prison. Her brother later recanted his story about Amanda's involvement, but then repeated it after being threatened with a perjury charge.
Goal: Prevent Victims from Taking Bad Pleas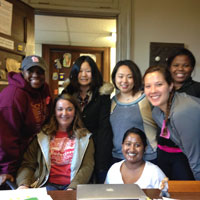 Even though the fight for the governor to grant clemency to all three women continues, the chances of them ever getting out of jail remain slim. Yet, Geraghty-Rathert remains committed to the cause, doing whatever she can to make her clients' lives easier and hoping to one day open a clinic at Webster to begin offering assistance to other women like Angel, Amelia and Amanda.
"It would be nice to be involved in a case that had not yet resulted in incarceration and perhaps to prevent someone from taking a bad plea or assist them in getting better legal representation," said Geraghty-Rathert.
Moving forward, Geraghty-Rathert also plans to conduct research on the number of females in prison who are survivors of domestic violence and how it impacted on their cases. She feels the justice system often mishandles situations surrounding domestic or family violence. In the meantime, current WILLOW Project student interns continue projects for the clients' legal representation and work on other WILLOW initiatives related to publicity for the cases, additional research and even on supplies drives for local domestic violence shelters and for struggling students.
The WILLOW team also encourages the community to help raise awareness about the systematic issues that are disempowering, victimizing, and marginalizing society's forgotten women by spreading the word and writing letters to local officials to provide hope for voiceless women throughout Missouri.
Until change comes, the fight continues.