2017 Athletics Hall of Fame Class Induction Ceremony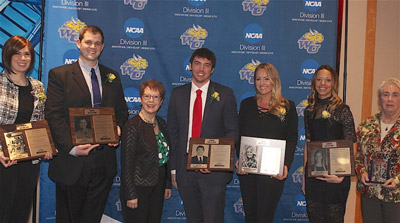 The 2017 Webster University Athletics Hall of Fame class was inducted in a ceremony at Sunnen Lounge, in the University Center, on Feb. 4, as part of a "pack the house" weekend coinciding with men's and women's basketball games on campus.
Scott Kilgallon, director of Athletics, along with Webster University President Elizabeth (Beth) Stroble and Athletics coordinator Amy O'Brien, presented the inductees and award winners.
Christy Capkovic (soccer), Megan Niederschulte Garrett (soccer), Darin Hoggatt (basketball), Katy Meyer (basketball) and Will Savage (baseball) were voted to the class of 2017. In addition, Elizabeth "Liz" Morren Baine, who graduated from Webster in 1962 with a degree in Physical Education, was the recipient of the Athletics Pioneer Award.
While at Webster, Baine was extremely active in the Athletic Association, participating in numerous sports. As an active volunteer for over two decades, Liz served on the Webster Alumni Association Board of Directors for six years, served as a class chair for her reunions and currently serves on the Liaison Committee.
Austin Ratanasitee was presented with the Student Athlete Advisory Committee (SAAC) Appreciation Award by current Webster SAAC members Brett Jungles and Lauren Nuelle. Ratanasitee was cited for his outstanding contribution and tireless dedication as a student worker for the Athletic Department, helping out in video production, video streaming of games, photography, graphics, and the Athletic website.
All inductees were in attendance, including Meyer, who currently resides in Italy. Each of the inductees took a few minutes to thank coaches, family, teachers, and others who influenced their Hall of Fame careers, while also reflecting on their experience at Webster and in athletics.
2017Athletics Hall of Fame Class
Christy Capkovic '11, Soccer
As a forward, Christy Capkovic amassed 88 goals, the 25th all-time high total in NCAA DIII history. Capkovic is Webster's all-time leader in goals, assists, and points, and was the NCAA DIII leader in goals (1.65) and points (3.9) per game in 2009 as she netted 33 goals and had 78 points total. She was named SLIAC All-Conference First Team all four years at Webster. Capkovic was an ESPN Academic All-American in 2010, NSCAA Scholar All-Region in 2009 and 2010, and was SLIAC All-Academic in 2010. Capkovic was Webster's Female Athlete of the Year in 2009 and 2010.
An elementary education graduate from Webster in 2011, Capkovic completed a Master's of Science in Education in Curriculum and Instruction at Southwest Baptist University. She is currently a first grade teacher at Bierbaum Elementary in the Mehlville School District in St. Louis.
Megan Niederschulte Garrett '11, Soccer
Megan Niederschulte Garrett was the second half of the Women's Soccer 'Dynamic Duo' from 2007-10 along with Capkovic. Together they scored 146 goals in that four-year period. Garrett, a forward/midfielder, finished her career with 58 goals, 41 assists and 157 points, all second on Webster's all-time high list. Garrett was SLIAC All-Conference three years, being a First Team selection in 2010, Second Team in 2007, and Honorable Mention in 2008. She was SLIAC All-Tournament in 2010.
A solid performer in the classroom as well, she was named to the Dean's List three times at Webster. Garrett graduated from Webster in 2011 with a major in Media Communications and minor in Marketing. She is currently a commercial sales manager at Woodard in St. Louis. She is married to Jeremiah Garrett.
Darin Hoggatt '08, '10, Basketball
Darin Hoggatt was a dominant center in the SLIAC during his basketball career at Webster, named First Team All-Conference in 2005-06 and 2006-07, and Second Team in 2007-08. The 2007-08 Webster Men's Basketball squad was the first to go 16-0 in the SLIAC and the first to win 20 games in a season. The Gorloks won the SLIAC three of the four years Hoggatt played. It was the only SLIAC team to do so. Hoggatt is first in FG%, first in free throws, third in FGs, fourth in points, and seventh in rebounds on Webster's all-time career lists.
Graduating with a BS in Finance from Webster in 2008, Hoggatt also earned a MS in Finance in 2010 while assisting with Webster's Men's Basketball team. Hoggatt currently works for Wells Fargo as a Model Risk Governance Analytic Consultant. He is married to Lauren Hoggatt, and they have a son, Miles.
Katy Meyer '11, Basketball
Katy Meyer was one of the top scorers in Webster Women's Basketball history, was deadly from beyond the three-point arc. Meyer was a Josten's Trophy Finalist in 2011, one of only ten NCAA DIII athletes nationwide considered for the award. She is first on Webster Women's career three-point field goals, third in career scoring list, and fourth in rebounds. Meyer was SLIAC First Team All-Conference in 2011, Second Team in 2010, and Honorable Mention in 2008 and 2009. She was the 2011 SLIAC Tournament MVP as Webster won and advanced to just its third NCAA DIII Championships. Meyer was SLIAC All-Academic three years.
Graduating with a BA in Political Science and Spanish in 2011, Meyer studied and taught in Spain. Since 2014, she has taught English as Foreign Language in Perugia, Italy, currently at Sisas Segnaletica. Meyer now plays for a semi-professional basketball team in Perugia.
Will Savage '10, Baseball
Will Savage, arguably had the best single season pitching performance in Gorlok Baseball history. In 2010, Savage was a Rawlings/ABCA First Team All-American, Rawlings/ABCA First Team All-Central Region, NCAA DIII Central Region All-Tournament Team, SLIAC All-Tournament, and SLIAC First Team All-Conference. In 2010, Savage went 9-0 (tied, highest win% and wins), with a 1.52 ERA (2nd), had six complete games (2nd), and recorded three shutouts (1st). He was named to the CoSIDA/ESPN Academic All-District Second Team and the Webster Male Athlete of the Year in 2010.
Graduating in Broadcast Journalism in 2010, he completed a Master's of Library and Information Science from Illinois in 2013. He is Director of Youth Services in the Lisle (IL) Library District. He is married to Lisa Savage.
This year's class brings the total Hall of Fame membership to 34. The Webster University Athletic Hall of Fame was established in 2010 to honor those who reflect the Department's mission of success in the classroom, the community, and the arena of competition. Former players, coaches, and other individuals who have made significant contributions to the program, are eligible for selection.