Beginning to Commence: Class Learns about Community of Webster Groves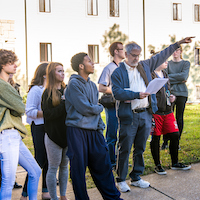 (St. Louis) – Students on Webster University's main campus might take Elm Avenue through Webster Groves when commuting into class. Or maybe they find a home to rent in North Webster. But other than restaurants and parks, students don't naturally get much of a chance to really learn about the community that is home to their school. This fall a group of first-year students is took a deeper look at Webster Groves to learn more about the community, its history and the people who have shaped it.
Kim Kleinman's class "Beginning to Commence" is a first-year seminar for the Scholars Learning Community, and they have been studying Webster Groves since August.
"It makes sense to build a learning community around our community," said Kleinman. "It's an opportunity to ground students and ourselves in the neighborhoods, businesses and resources of Webster Groves. It helps us understand both Webster Groves and Webster University in that mutually interacting context."
Students have selected different things to study throughout the past few months based on their own areas of interest.
"I have explored race relations," said Kealea See, a student in the class. "I felt that this topic was highly important, especially during this trying time in our country regarding racial discrimination and violence. I've learned about the integration of the local schools and how the community evolved in response to it. For example, I met with Dave Schroeder, a long-time member of the North Webster community, and he experienced first-hand the integration of Douglass High School. He shed some light on how students interacted, telling me a story about how the students would pair up at lunch as one person of color and one white person in hopes of breaking down the boundaries of racial separation."
Other local community leaders helped out throughout the semester. Louis H. Davis, Jr. accompanied students on the North Webster Walking Tour, one of the eight historical Webster Groves walks developed by the City of Webster Groves. Students attended this walk through the North Webster neighborhood and learned about the history of the area and the changes that occurred throughout time.
"Getting to be with Louis Davis in North Webster was a powerful reminder of the rich dignity of that part of our community," said Kleinman. "I've read that history and knew it, but being there with a leader of that community and a participant writer of that history communicated so much more than the written narratives."
Sarah Riss, former superintendent of Webster Groves School District, also helped with information and community connections. Students also spoke with members of the Webster Groves City Council, the Webster Groves government offices, clergy, the Webster Groves Historical Society and area businesses owners.
"I decided to research the parks in town along with the Webster Groves parks and recreation department," said Abby Karst, another student in Kleinman's class. "I interviewed Yvonne Steingruby, the superintendent of the Parks & Recreation department, and I visited area parks like Blackburn Park and Glen Park."
Students may be concentrating on specific areas but they're sharing their knowledge with the rest of the class.
"We have covered anything from the socioeconomic flow of currency in Webster Groves to how places got their names," said Cheyenne Davis, a student. "There was a focus on more artistic interests such as music and theatre, but it didn't stop us from learning about the statistics and demographics of Webster Groves and about social justice issues and religions in Webster Groves."
Cheyenne Davis said she thinks it's important for students at Webster to learn about the surrounding community.
"It's easy to see Webster University as separate from Webster Groves, but they are not," she said. "It's important for students to know about the community so they can involve themselves, help strengthen the connection between the university and the community and make the most of their time here. You miss out on a lot if you never stop by the local restaurants or see local artists."
Scott Leeker, another student in the course, agrees: "If we aren't aware and accepting of the community, Webster Groves won't give the benefit of accepting us."