Webster Wins Sixth Consecutive Pan-Am Chess Tournament, Heads to Final Four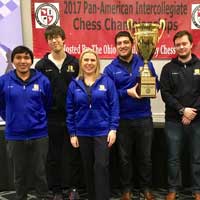 COLUMBUS, OHIO - Webster University's Chess Team took first place in the annual Pan-Am InterCollegiate Chess Championships for the sixth year in a row, qualifying for one of the four slots for the national collegiate chess title, known as the "President's Cup."
The tournament featured 58 chess teams of four starters and up to 2 substitutes from 36 universities, including such well-known institutions such as Harvard, Columbia, Princeton, and Rutgers, etc. The competition was held Dec. 27 - 30 and was hosted by The Ohio State University in Columbus, Ohio.
With this win, Webster University became the first school in collegiate chess to win six consecutive Pan-Am tournaments.
This also is the ninth consecutive year that coach Susan Polgar led a team which qualified for the Final Four. If the team wins the Final Four, Polgar would lead more teams to win a collegiate national championship than any coach in the country. Currently, she is tied at seven national championship titles with the late legendary basketball coach John Wooden of UCLA. Before joining Webster's staff, Polgar coached two teams from Texas Tech University to championships.
"This was a hard-fought victory as we lost precious rest and practice time when our initial bus broke down in sub-freezing temperatures," Polgar said. "This was complicated by the fact that several of our team members started exhibiting flu symptoms just before we left, leaving us to wonder at one point if we would have enough healthy players to help us win the championship. We had to make a last-minute lineup shuffle on all of our teams, but our players rallied together and took another win for the Gorloks."
One player suffered through his flu symptoms to help the team win. Webster student Ilya Nyzhnyk, who normally would play in the A team, came down with the flu a few days before the tournament and at one point discussed with the team about him not making the trip, as he was so ill. At the last moment, he got on the bus, but was still so sick that he skipped team meetings in order to sleep. Up to an hour before the first game, the team wasn't sure he would be able to play. Since he was still under the weather, a lineup change was made and he was put in the B team instead and another player who was healthier took his spot.
"Despite not feeling well and also suffering through the side-effects of flu and cold medications, he had one of the best performances out of all of our players during the tournament," Polgar said. "He scored four wins and two draws and his overall play was fantastic."
Another player, Manuel Leon Hoyos, a graduate student who started at Webster University at the inception of the program in 2012, also had a severe flu. Hoyos, a former Mexican and US Open Champion, played in his last ever PanAm for Webster, also performed heroically in spite of the flu, to help the team make the Final Four.
The flu wasn't the only obstacle to the team this year. Normally, the bus trip to Columbus would have taken less than seven hours. Webster's team, on the other hand, was slowed down by heavy snowfall along the route, including hitting some parts of the highway that had not been cleared of snow and were under blizzard-like conditions. To further exacerbate the problems, their original bus broke down, turning a 6.5 hour trip into an 11 hour ordeal.
When they arrived at their hotel, they discovered that there was a mix-up in hotel's computer system and none of the team's reservations were on record. Fortunately, the reservation was eventually located, and the team was able to check in for some sleep before the first round of chess the next day.
Webster's "A-Team" with students Jorge Cori, Ray Robson (team captain), Aleksandr Shimanov and Vasif Durarbayli took first place in the tournament. Webster's "B-Team," represented by students Peter Prohaszka, Illia Nyzhnyk, Priyadharshan Kannappan and Manuel Leon Hoyos, tied for second.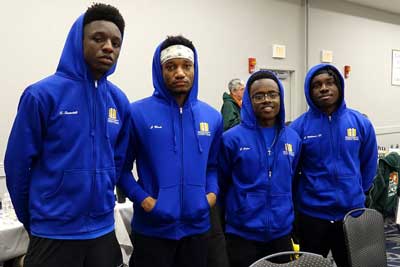 Webster's "D-Team" tied for 16th place with players Aaron Grabinsky, Kaleb Gosdin, Tom Polgar-Shutzman, Luisa Mercado Mendoza and Noor Fatima Rashid as a standby substitute. Webster's "C-Team" tied for 25th place. Team members Shawn Swindell, James Black, Joshua Colas, and Justus Williams all self-identify as African-American or Black and were the only team in the tournament with all African-American members.
Webster's team will now head to the President's Cup, which will be held in New York City from March 30 to April 1. They will play against chess teams from St. Louis University, Texas Tech and University of Texas Rio Grande Valley for the national title. If Webster's team wins that tournament, it will be the first time a University will have won the title six consecutive times.
To learn more about Webster's chess program, visit www.webster.edu/spice/.