Geneva's 24th International Humanitarian Conference: Humanitarian law and human rights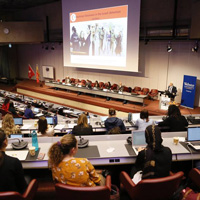 Webster University Geneva's Department of International Relations, together with the Webster Humanitarian Association (WHA), held its 24th International Humanitarian and Security Conference (IHSC) on March 7-8.
The conference was organized in cooperation with the International Committee of the Red Cross (ICRC) and the UN High Commissioner for Refugees (UNHCR). As in the past, it benefited from the high patronage of the Government of the Republic and Canton of Geneva.
Over 150 people attended the public conference led by Dr. Oreste Foppiani, Head of Webster's Department of International Relations and chair of the IHSC's scientific committee, and Ms. Martina Castiglioni, President of the WHA.
The participants included three keynote speakers and twenty-one panelists. Webster University student volunteers played a key role in the preparation and execution of the conference. As on previous occasions, it was held at the Geneva International Conference Center in the United Nations district of Calvin's city.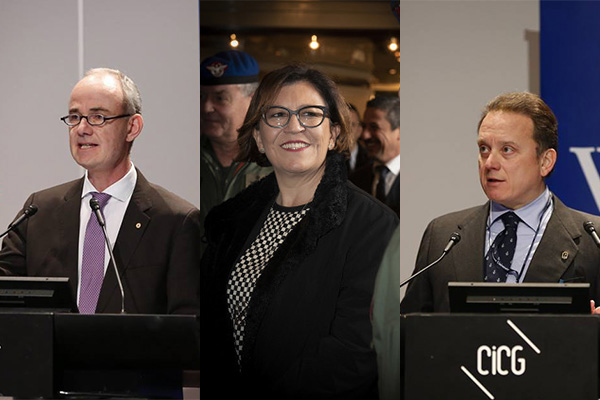 Ms. Elisabetta Trenta, Italy's Minister of Defense, opened the conference via Skype highlighting the importance of the Geneva Conventions for her country as well as the respect of human rights wherever the Italian Armed Forces are called to operate around the world.
This year's conference, "Rebalancing International Humanitarian Law (IHL) and Human Rights: The Significance of the 1949 Geneva Conventions Seventy Years On," included a keynote address by Dr. Gilles Carbonnier, Vice-President of the ICRC and Professor of Development Economics at the Graduate Institute of International and Development Studies, which was particularly gripping and motivating.
Carbonnier's powerful address, "The Geneva Conventions at 70. More than a Successful Legacy: A Call for Action," focused on the fact that in spite of significant progress and substantial achievements to date, in numerous conflicts the Conventions are not being respected, atrocities are being committed, and the rights of combatants and civilians are disregarded. In addition, new technologies such as autonomous weapons are emerging and are having uncertain effects on human dignity.
The subsequent panels during the two-day conference focused on six specific themes:
POWs, Internees, Captured Personnel and Detention Facilities
The Protection of Civilians in Occupied Territories
The Changing Character of Warfare
The Protection of Medical Personnel and War Correspondents
Child Soldiers
The Increased Relevance of Non-State Actors in Armed Conflicts.
Overall, the conference was a resounding success. The 25th International Humanitarian and Security Conference will be held March 19-20, 2020.
Additional coverage on the conference can be found on Webster Geneva's website.
The full conference agenda remains available online, and more photographs can be seen on the Webster University Geneva Facebook Page.