Tuition Freeze for Full-Time Undergraduate Students at Webster University for the 2020-2021 Academic Year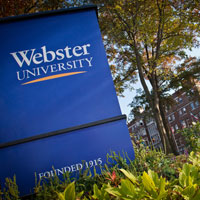 ST. LOUIS – Webster University announced a tuition freeze for new and returning undergraduates in the United States in the 2020-2021 academic year, it was announced today. The Board of Trustees approved the freeze during its September meeting.
This decision reinforces Webster's mission to provide high-quality, affordable education to a student population of diverse socio-economic backgrounds. Historically, Webster University's tuition increases have been below the rates implemented by most private non-profit institutions in the United States.
"We know the pressures on students and their families to fund a university education. At the same time, we know that attaining a degree or certification is a proven pathway to improved lives for our graduates and stronger communities where they live and work," said Webster University Chancellor Elizabeth (Beth) J. Stroble. "Coupled with the many ways we support the diversity of the university's students in academics and student life, today's decision will ensure continued access to Webster's transformative education for all of our students."
Under the plan approved by the Board of Trustees, undergraduate students enrolled in 13-18 credit hours per semester – categorized as "flat-fee" students – will see no tuition increase next year. Last year, out of the 479 new freshmen who entered Webster, only seven were enrolled in fewer than 13 credit hours.
Graduate students enrolled at the Webster Groves, Gateway, Westport, or Wing Haven locations in Missouri, or at Webster's California location also will not see a tuition increase next year. In addition, all military students, and all online students worldwide will have their tuition frozen next year.
Undergraduate tuition rates can be found at https://www.webster.edu/admissions/undergraduate/tuition.html, and graduate tuition rates can be found at https://www.webster.edu/admissions/graduate/tuition.html.
Educational affordability is an important issue at Webster University, which is frequently cited by national publications and reports for its affordability and value. In late August, Washington Monthly magazine released its list of the best universities in the country and listed Webster for "Best Bang for Your Buck: Midwest Region (Social Mobility Ranking)" list. Webster was ranked as the 11th best institution in Missouri for social mobility (out of 37 state institutions) and as the 13th best among all its regional peers in the Midwest.
The U.S. News & World Report rankings – released earlier this month – listed Webster on its "Best Value" category, "Least Debt, Class of 2018" list, and for "Social Mobility." The "Social Mobility" list reviewed the graduation rates of Pell Grant recipients to non-Pell Grant recipients to determine which institutions best serve the needs of Pell students. Overall, Webster University was ranked at 17 on the U.S. News & World Report "2020 Best Colleges" ranking among Regional Midwest Universities.
Webster offers a generous amount of financial aid awarded to 98% of full-time undergraduate students – an average of $16,879 in institutional grants or scholarships per student according to the U.S. Department of Education. Last year, Webster increased the overall amount of aid to students by nearly $2.2 million in the past year as part of this commitment to helping students.
Webster has found other ways to contain costs, such as lowering tuition for students from specific professions, keeping student fees lower than those at other institutions, and providing other unique programs at no cost to students. Those include paying for a student's first international trip in its nationally recognized study abroad program, which helps increase accessibility to this high-impact learning experience. After graduation, the typical Webster student has less student debt than at other peer institutions because the costs are kept low, and almost all Webster students end up repaying their student loans, according to data from the U.S. Department of Education.
Additionally, Webster offers numerous financial literacy programs throughout the year, such as its "Money Talks" sessions where students could learn more about how to better manage their finances, the free "financial wellness" assessments offered through Prudential, and the one-on-one appointments with financial aid counselors available throughout the year.
"As many of our students tell us, Webster is a place where you can find yourself, and chart your own path," said Webster University President Julian Schuster. "As a result, we continually analyze our tuition structure while identifying new ways to better serve students in a way that is affordable for them and best positions them to succeed."
Webster has previously been lauded by other organizations for its affordability and for its high graduation rates for Pell recipients. A listing of many of Webster's successes can be found online here.