Dang-Williams Named AVP for Academic Affairs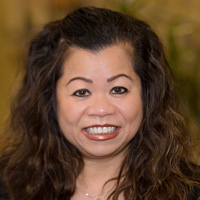 The Office of Academic Affairs is pleased to announce that Thao Dang-Williams will join the office as associate vice president (AVP) for Academic Affairs on Sept. 28.
Dang-Williams has served for six years as dean of extended education for Webster's St. Louis metropolitan locations at Gateway, Westport and WingHaven. In the role of AVP for Academic Affairs, Dang-Williams will lead efforts to improve degree progression, retention, and completion for graduate students. She will also manage programming to strengthen undergraduate enrollment and student success, including Dual Credit, and will help to build and improve services and programs for adult learners.
"Thao has experience in pre-college initiatives and outreach, community college programming, adult learner strategies, and graduate student affairs," said Nancy Hellerud, Vice President for Academic Affairs. "We're excited to have her join Academic Affairs and bring her talents to efforts to strengthen and improve student persistence and completion at Webster."
Dang-Williams joined Webster in 2011 as Associate Dean of the College of Arts & Sciences for two years. She served as Interim AVP for Academic Affairs and Director of the Online Learning Center for one year before assuming leadership of the St. Louis extended locations. She earned a BA cum laude with a double major in Communication and Government from Monmouth College, an MA in Communication from St. Louis University, and an EdD in Higher Education Administration, also from St. Louis University.