International Relations Alumna from Bhutan Motivated for Change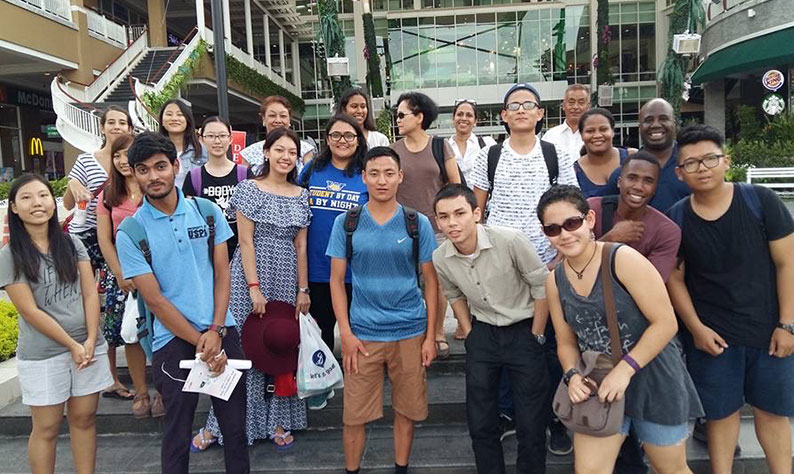 Sumitra Ghalley's undergraduate life explained so much of the world in which she grew up. The Webster University alumna, who graduated from Webster University Thailand with a degree in International Relations (IR), is from Bhutan, which motivated her to study and value human development.
"During my time at Webster, I gravitated towards topics related to Third World Approaches to International Law (TWAIL) and Sustainable Development Goals and Poverty," she said. "I was able to explore so many issues including the substantial gap between the development indexes in the global North and South."

The debt between the Global South and North have amounted to $8.4 trillion. Sumitra learned about how the economic disparity is connected to many other aspects of development.
"As I studied the universality of human rights, the imbalance in the progressive advancement of the region and third world countries became a growing concern to me," she said. "It demonstrated why international law or the system as a whole is inapplicable to solve the issues emerging in the global south."
The lack of efficient application of the international system and law to solve issues in the global south became apparent to the IR student. "Global development is a distant reality when international norms themselves are not considered to be universal," she said.

Inequality had become a recurring theme as Ghalley started taking a number of specialized courses. "The Women, Gender, and Sexuality around the World course explained the patriarchal concepts that prohibit women from working and earning, which puts them deeper into poverty," she said.
Study Abroad Opportunity in Geneva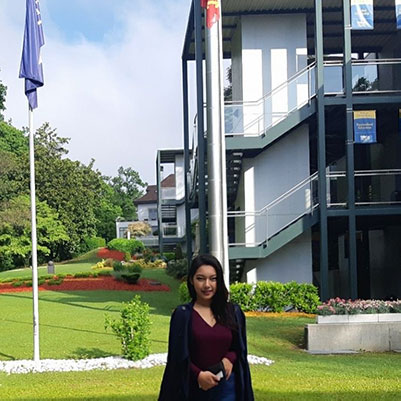 She also took the opportunity to join the study abroad program and take a semester at the Webster Geneva campus: "I took the Refugees and Migration Movement class in Geneva and learned about the illegal forms of labor migration. Human trafficking and human rights violations are much higher in the region as a result of migrating for employment."

Exposure to global dynamics has propelled Ghalley to pursue further education in political science. She has enrolled in the University of Edinburgh to pursue her postgraduate studies.
The tight-knit community at Webster was an unexpected learning opportunity for Sumitra: "Our student body was always very close to each other," she said. "I also became the Secretary of the IR club, and that allowed me to attend seminars, meet diplomats, guest speakers, and get into interactive discussions regarding current global affairs." She also recalls gaining field experiences during her time at Webster. Sumitra appreciated the parallel experiences that helped her communication skills- "The career fairs included a diverse array of international organizations that helped me prepare for professional ventures through interviews. We became aware of what is expected of us in a professional setting."


Ghalley has taken her academic experiences to instill initiatives for progress. She found her volunteer and internship tenures enriching: "My internship at South Asian Association of Regional Cooperation Secretariat (SAARC) in Kathmandu which motivated my interest in international norms in the global south, gender, and labor migration issues." The opportunity entailed working under the Department of Information and Poverty Alleviation in the SAARC Secretariat. "I learned about how regional organizations could create development agendas and policies toward global development. I became aware of the increasing inflow of remittance in South Asia and how it did not result in improving human development issues such as poverty and lack of education."

Remittance has been a continuous source of support throughout the region. India was the largest recipient last year at $83.1 billion. It was followed by Pakistan ($22.5 billion), Bangladesh ($18.3 billion), Nepal ($8.1 billion), and Sri Lanka ($6.7 billion). Sumitra understood that these income channels have a number of channels- "Most of the migrant laborers who sent money to their families were men. A portion is allocated to pay the debts that he had made while fleeing. The remittance amount is used mainly to run daily household expenses. There is no scheme towards long-term growth in the form of investments of businesses." Business solutions became apparent to Sumitra when she minored in Management- "I studied global entrepreneurship and international marketing. I concluded that women should be encouraged to become entrepreneurs through funding from remittance; it can secure long-term financial growth."

Evidence for Perspective
Learning to be more observant is Ghalley's key takeaway from her international relations studies: "Misleading information and fake news promote dangerous agendas and those with the information need to speak out," she said. "It starts with a conscious ability to hold a strong and balanced argument."
Ghalley also stresses that IR encompasses more than just politics. "It's about having a cross-cultural understanding and awareness of what's happening beyond borders and being able to make a critical analysis of cases by decoding it rather than believing in what's shown on the surface."
Similarly, her experiences as a student were interestingly outside of the box, "I never expected that I'd be watching 'The Daily Show with Trevor Noah' in Professor O'Bannon's American Politics class," she said. "And with Professor Donatelli, we listened to music and watched advertisements from the beauty industry to decipher how the industries had sexualized women and set impractical standards for men and women."

Ghalley believes that IR is the first step in introducing the knowledge needed for change: "The world faces so many different challenges from poverty, war, deforestation, and epidemics. I advise IR students to find the matter that means the most to them and see what kind of positive impact they can create."
Ghalley's academic life has shown her how economics, culture, education, and political science all have impacts on society. "Studying IR, we also learn how and why nations, governments, and individuals respond accordingly to such issues. This subject is for those who are passionate about wanting to combat injustices, as well as learn from history regarding what works, and what doesn't work when it comes to living in a single global society."