Woody Cooper Appointed to American Psychological Association Committee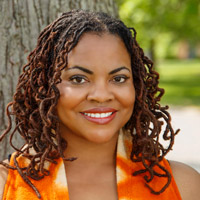 Jameca Woody Cooper, an adjunct faculty member and program director in Webster's School of Education and a St. Louis- based psychologist, was asked to serve on the American Psychological Association's Committee on Aging.
The American Psychological Association is the leading scientific and professional organization representing psychology in the United States, with more than 121,000 researchers, educators, clinicians, consultants and students as its members.
"I am thrilled to be appointed to serve on a committee that helps to ensure that older adults, especially older women and minorities receive the attention that they deserve," Woody Cooper said. "This is a tremendous honor to be selected by my peers to examine such an important issue on a national level."
Woody Cooper holds a Ph.D. in Educational and Counseling Psychology from the University of Missouri Columbia and was awarded a Fulbright Award/Fellowship in Global Health in 2014.
Woody Cooper was awarded the Salute to Excellence in Health Care award by the St. Louis American newspaper in 2014 in honor of her dedication to healthcare for African American individuals in the community. She was also awarded the Phenomenal Woman award from First Bank and radio station 95.5 The Lou in 2018.
She is a past president of the Association of Black Psychologists (St. Louis Chapter), and President of the Tougaloo College Alumni Association (St. Louis chapter). She is currently the Public Education Coordinator for the Missouri Psychological Association. She is currently on the Board of the Missouri Psychological Association and the Advisory board of CareSTL. She is also a reviewer for the Journal of Black Psychology and the American Psychological Association convention. Her leadership these organizations has helped to re-engage members and stimulate more community outreach efforts.
Woody Cooper has been featured in The Washington Post, The Wall Street Journal, CNBC, NBC. USA Today and ABC news regarding her expertise in stress, racism and Covid-19. She was recently featured on St. Louis Public Radio.
She currently is the program director of the Applied Educational Psychology program and the school psychology program at Webster University's School of Education.