Cheryl Fritz Named Chief Human Resources Officer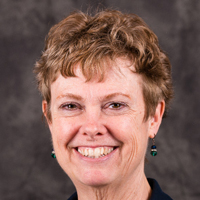 Webster University has appointed Cheryl Fritz as its Chief Human Resources Officer, effective June 1.
Fritz, who joined Webster University in 2010, has served as Webster's interim CHRO since August 2019. Since assuming that role, she has developed an integrated unit that includes Human Resources, Payroll/Employee Shared Services and Title IX.
"Over the past decade, we have come to know Cheryl as a trusted colleague and partner at Webster," said Chancellor Elizabeth (Beth) J. Stroble. "She brings deep human resources expertise and an abiding commitment to Webster's people across our global network. I look forward to her continued leadership."
During Webster's planning and response to the global coronavirus pandemic, Fritz has been a key member of the leadership team supporting transition to Modified Operations, including development of Webster's Flexible Remote Work Arrangements policy.
"Cheryl's experience, expertise, steadfastness, and collegiality are greatly needed in any community, particularly in the times like this," said President Julian Z. Schuster. "The quick response to the demands posed by the pandemic this spring is just the latest example of how Cheryl continually provides important leadership on behalf of human resources at Webster. Cheryl is an invaluable asset for Webster University."
"I have appreciated the collaboration and partnership during these challenging times, which have truly reflected the spirit and heart of Webster and allowed us to persevere and continue to fulfill our mission in serving students so effectively across our global network," Fritz said. "It is a privilege to be asked to continue in this role."
Fritz was a 2015 fellow in Webster's Global Leadership Academy and holds a Master of Human Resources Management from Webster. She holds a Bachelor of Business Administration magna cum laude from Truman State University. Prior to joining Webster, she gained over 20 years of experience within the Mercy system in management roles covering benefits, compensation and human resources systems. At Mercy, Fritz was involved in the strategic aligning of the Human Resources department, as well as the health system's business transformation and change management.
Her professional certifications include Senior Certified Professional (SHRM-SCP) through the Society of Human Resources Management and Certified Compensation Professional (CCP) with WorldatWork.