Student Literacy Corps Children's Book Drive Hits 21,750 Donated Books and Counting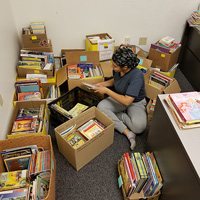 Webster University's Student Literacy Corps has been collecting new and gently used children's books (from infants to teens) and delivering them to a variety of schools and other agencies serving low-income children and families since 2001.
Many children and teens in our community have limited access to quality children's literature. They don't have books at home, it may be unsafe to walk to their local library, and school budgets have been cut drastically, limiting their choices there as well. These donation help continue Webster's tradition of getting great books to great kids.
This past drive brought in over 1,700 donations from Webster students, faculty, and staff, bringing the lifetime donation tally to 21,750.
Donations made to...
This year's books have been delivered to the following schools and agencies:
Ashland Elementary

Bayless High

Buder Elementary

Cornerstone Child Development

Gateway Elementary

Hancock Middle

Lyon Elementary

Mullanphy Elementary

Nahed Chapman New American Academy

Nance Elementary

Patrick Henry Academy

Yeatman Middle

Wilkinson Early Childhood

Woerner Elementary

Women's Safe House
In addition to local sites, books were donated to Creole Bibliyotèk Katye A, a library created by Webster graduate Molly Kinder for children in Haiti.
Thank you to all who have helped to bring great books to great kids!
About Webster's Student Literacy Corps
Webster University's Student Literacy Corps is a community service program through which Webster students are trained and placed as reading tutors in St. Louis-area schools.
Created in 1990 by School of Education faculty members Dr. Jeri Levesque and Dr. Theresa Prosser, the program celebrated 25 years in 2016 with over 700 Webster University student tutors having reached over 10,000 students. While the program originated in the School of Education, tutors have come from every school on campus.