COVID-19 Update: Courses moving online, campus events canceled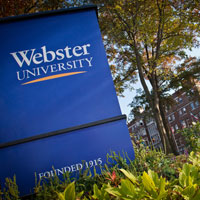 The following message was distributed to Webster University employees and students on March 11, 2020.
To the Webster University Community:
Safety is our first concern at Webster University. Webster University's COVID-19 Task Force has been meeting daily to assess the latest information about the coronavirus pandemic, including the latest recommendations and strategies from the Centers for Disease Control and Prevention, local health agencies, and University partners.
As we consider the needs of our Webster community and the communities the University interacts with globally, the task force has made decisions today to improve the climate for public health amid concerns about the spread of the COVID-19 virus.
The task force has decided Webster University will move all classes at non-military U.S. locations throughout the U.S. and at the Leiden, Netherlands; Geneva, Switzerland; and Vienna, Austria campuses to an online environment, through Friday, April 3. Courses in Athens, Greece, are also moving online until Thursday, March 26, and the staff in Athens will continue to work on the campus but at reduced staffing levels. Webster's locations in China have been operating remotely since the beginning of the Spring 2020 term in January.
UPDATE: March 12: Geneva and Leiden were added to the list of campuses above that are converting on-ground courses to online until April 6.
Webster will coordinate with authorities at our military locations nationwide regarding plans for those classes moving forward. Another exception to the transition to online classes will be courses in Webster's nurse anesthesia program, which will continue to meet in a face-to-face setting. Webster University continues to monitor the pandemic globally, and will provide updates on the status of other international campuses in our network as situations change.
The dates for transitioning courses back to in-person instruction are subject to change in collaboration with local public health authorities and as conditions are re-evaluated.
At this time, there are no known cases of COVID-19 among members of the Webster University community. However, these measures will give the University time to assess if anyone in the Webster community has been directly affected by the virus, as well as to move and thoroughly clean all classrooms, offices, and other areas used frequently by students, faculty and staff with recommended cleaning solutions.
All students will receive messages on their University email accounts from the Online Learning Center with instructions on how to log into classes. An FAQ to help guide students during this transition will be posted and updated on the COVID-19 resource section on Webster's website. The move to online courses will have no impact on tuition/credit hour prices nor on students' existing financial aid awards, provided they continue to participate in their classes. Student employees will continue to report to their on-campus jobs. Webster University has been a leader in online education nationally for decades and has the experience necessary to make this transition during this challenging time.
Faculty have already received a University message about preparing for teaching for online, and the Online Learning Center will continue contact to assist with this transition. Staff members have also been informed of how they can support this shift in operations. For now, Webster University staff members at these locations will continue to work at their respective campuses.
On the Webster Groves campus, residential halls, the library, and laboratories will remain open and food services will continue in Marletto's. However, all events scheduled through April 5 on the Webster Groves campus will be postponed or canceled. Events scheduled for Monday, April 6, and beyond will be re-evaluated prior to that date. These options will allow the University to partner with students and families as they assess their own situations during the pandemic and work together to find the best option to continue education despite the threat of the virus.
In addition, Webster's Community Music School will continue to offer individual classes to students during this period. However, the Kindermusik classes and all recitals will be postponed until April 6, and all performances will also be postponed or canceled until April 6.
This level of caution is necessary to safeguard our students, faculty and staff during this unprecedented time. The committee expresses its appreciation to all members of the Webster community for their ability to adapt quickly during this situation, which has changed frequently since we initiated on-going communications about the pandemic in late January. We will continue to monitor the situation closely and recommend other policies that will improve safety and enable educational continuity for the Webster community. By working together, calmly and reasonably, we will weather this threat and continue our educational mission.
President Julian Z. Schuster
and the members of the Webster University COVID-19 Task Force
<d/vi>