Message from the President and COVID-19 Task Force: Moving to Modified Operations status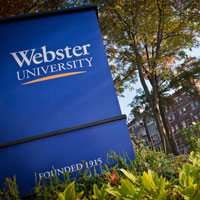 The following message was distributed to employees from Webster University President Julian Z. Schuster and the COVID-19 Task Force on March 18, 2020.
Colleagues:
The COVID-19 pandemic has altered our way of life. All around the world we are seeing its drastic effects, among the individuals and families who are its direct victims, among the frontline workers and health systems that have been stretched by its spread, and in the anxiety and economic impact that has only begun to be felt.
Amid all of this, our community has risen to the occasion to answer a central question: How do we continue our academic mission while managing the health and well-being of our community during this uncertain time? The rapid, flexible response from all of you has reflected the tremendous compassion and foresight of our community.
As we continue to adjust to this situation, today we begin the move to Modified Operations status. Under this status, University units must provide necessary support for continued – and enhanced – online learning, as these courses will now be delivered online for the rest of the semester. To further reduce person-to-person contact during the pandemic, employees who are not already working remotely may do so in consultation with their supervisors. Certain exceptions apply for employees who must be physically on campus, but the objective remains to increase safety while maintaining academic programming and student support, on-ground facilities, and essential services to students who cannot leave campus due to extenuating circumstances.
The move to remote operations will be implemented over the next several days, depending on the unit and need, and in coordination with each division's leader. Information Technology also has several resources about working remotely. Modified Operations status will then continue until further notice, though units will be preparing for it to continue through the end of the spring semester.
For staff, several relevant Human Resources policies and benefits apply, including for any benefit-eligible employee who must stay home as a result of their own health or to care for a family member resulting from the COVID-19 pandemic. Those details and policy updates are available from Human Resources and your supervisor, and an overview can be found in the Remote Work links here.
During Modified Operations, at the main campus some buildings will remain accessible, but faculty, staff and students must carry and use their Webster University ID to access them and coordinate with their supervisors or deans.
We will continue to work with all faculty, staff and students to assess and address questions that may arise during this process. The COVID-19 Task Force will continue to monitor the situation and keep our community informed during these extraordinary circumstances.
Finally, I want to thank you all for your composure and resolve during this extraordinary time. While we cannot conduct business "as usual," we must, in fact, continue the academic and administrative support of our students and each other. Your thoughtful feedback, encouragement and support of one another has been remarkable. The creative ways you have engaged each other and students have strengthened bonds during a time of growing social isolation. This is a challenge like no other that Webster has faced in its 105-year history, but together we can come out of it having done our absolute best for the Webster community at a historical moment.
Julian Z. Schuster, President
and the Members of the COVID-19 Task Force