COVID 19 Update: Continued Remote Operations and Phased, Safe Transition Planning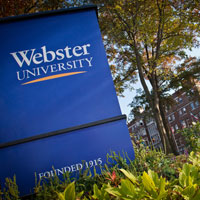 The following message from President Julian Z. Schuster and the COVID-19 Task Force was distributed on May 8, 2020:
To the Webster University Community,
It has been two months since the Webster University COVID-19 Task Force first convened to respond to a worldwide pandemic that threatened the health and safety of our global community. With your patience, input and guidance, we quickly responded to this external threat, pivoted to remote operations and reduced our community's exposure to the virus. We greatly appreciate everyone's fortitude in working under these unusual and difficult conditions, and our success could not have been achieved without the entire community's participation.
Now that social distancing policies instituted by various government agencies have reduced the spread of the virus, we are seeing fewer hospitalizations in our region and a decrease in the number of illnesses reported weekly; however, experts still urge everyone to continue to practice social distancing, wash your hands thoroughly, wear masks, and call a doctor if you are feeling ill.
Webster University intends to steadily transition and to adapt to changing circumstances. Beginning on May 18, the day when restrictions on business operations will be lifted in St. Louis County, some administrators and staff members will be called back to work on campus that week. Details about who will return to campus will be determined by various supervisors working in conjunction with the new Task Force on Transition and Adaptability. However, most employees will continue to work at home and details about a phased return from modified operations will be forthcoming.
We will make this transition in a safe and orderly way, and it will come with careful planning and phases associated with the return to in-person operations over time. We are making this decision about a phased return to in-person operations because due to the warmer weather we have noticed that increasing numbers of our colleagues have begun returning to work on campus in Webster Groves. We urge everyone who has already returned to campus to continue to follow the guidelines for modified operations. If you wish to return to work on campus you should notify your supervisor and the Department of Public Safety. You should follow good health practices and maintain social distancing.
Beyond St. Louis, the transition to in-person operations throughout our global network will be gradual and will vary between locations, depending upon the situation in those areas as well as the guidelines instituted by local governmental authorities.
To help make sure there is an orderly and safe transition, the new Task Force on Transition and Adaptability will develop strategies on how to move operations away from modified operations. Among the tasks being handed to the new task force are:
Developing guidelines for social distancing, meetings and classroom limits regarding the amount of people allowed in a session;
Determining the need for masks and other protective gear, and other items to improve safety and health;
Reviewing conditions nationwide in the U.S. to begin to offer guidance for the orderly transition of other locations toward in-person operations in the U.S.; and
Establishing timelines for when employees will return to in-person operations and the steps involved in the phases of that transition.
We will continue to share information and more details of our transition plan before May 18. Our goal is to maintain our University operations that minimize health risks and provide for the safety of our community. The health and well-being of all our students, faculty and staff are paramount.
President Julian Z. Schuster
The Covid-19 Task Force