Professor Hwang, Three Alumni Recognized as Top Teachers in the Region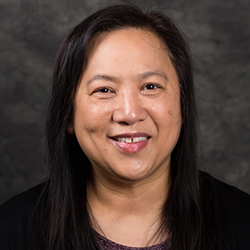 ST. LOUIS - Webster University English Professor Sheila Hwang was named one of the top professors in the St. Louis metropolitan area this week as part of the 2020 Emerson Excellence in Teaching Awards. Three Webster alumni also were also recognized for their work in the field of education.
The annual program recognizes more than 100 St. Louis area instructors annually, selected by their schools' administrators, for their accomplishments and dedication to their students and the teaching profession.
"Sheila is an engaging professor who brings a deep understanding to the study of literature. I had the opportunity to co-teach a topics in literature course with her and observed, first-hand, her detailed analytical skills, breadth of knowledge, and enthusiasm for student learning." said Tony Wallner, dean of the College of Arts & Sciences, which is home to Webster's English Department. "I share my and my colleagues' congratulations to Sheila for this well-deserved honor."
Sheila is a dedicated and brilliant teacher and mentor, a steadfast colleague, and a Webster University superstar.
Hwang previously received various honors and awards that highlight her innovative teaching style and philosophy. Among her most recent accomplishments, Hwang received the William T. Kemper Award for Excellence in Teaching earlier this year, one of Webster's most prestigious faculty awards. In 2016, she was one of two faculty members who were awarded fellowships from the National Endowment for the Humanities.
"Sheila is a dedicated and brilliant teacher and mentor, a steadfast colleague, and a Webster University superstar," said English Department Chair Murray Farish. "She deserves every accolade, because she never rests on them."
Alumni from '94, '04, '12 Also Honored
Along with Hwang's honor, three Webster alumni were also named to this year's Emerson list. Ryun Deckert '04, Mindy Bhuyan '94 and Tonya Longmore '12 were among 100 St. Louis-area educators to also receive Emerson's Excellence in Teaching awards.
Deckert is a math teacher at Parkway Schools' Northeast Middle school. Earlier this year, he was selected as the 2020 Teacher of the Year for that district, as well as the district's Middle School Teacher of the Year. Bhuyan is a fourth-grade teacher at The College School since 1996. She incorporates a love of the outdoors into her teaching by taking students out to study Missouri creeks and working with STREAM team. Her collaborative work with sustainability education has been published in the SoL Education Journal in 2010. Longmore teaches at Castlio Elementary School in the Frances Howell School district and has been teaching a virtual fourth-grade class during the pandemic. She also serves as an Information Technology Specialist where she offers support to other teachers in the arena of virtual classrooms.
The Excellence in Teaching Awards program is sponsored annually by St. Louis-based Emerson, a diversified global manufacturer and technology leader. This year, in lieu of an in-person awards ceremony, Emerson recognized winners with custom gift boxes, which included an engraved crystal apple keepsake from Tiffany and Co., a certificate of achievement and other celebratory items to enjoy. More information about the recognition program can be found here.