Gorlok Greats Award Winners Recognized for Fall 2020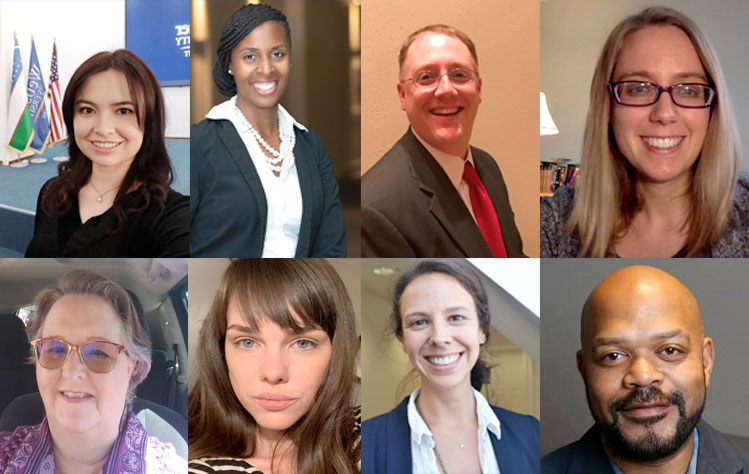 The Gorlok Greats Award recognizes staff members whose achievements, whether an individual act or sustained effort of exemplary service, relate to Webster University strategies and support the University's values and mission.
This fall the Gorlok Greats Committee received the most nominations during a nomination period ever, receiving over 80 nominations for this distinguished award. In addition to the previously held standard of six winners, this semester two additional awardees were named and a dedicated committee selected a total of eight exceptional employees from across the Webster Network. The Webster Staff Alliance and Gorlok Greats Committee would like to thank all who participated in this semester's Gorlok Greats nomination process.
Check out the Gorlok Greats website to find out more about the program and next nomination period.
Please join us in congratulating the Fall 2020 Gorlok Greats award winners, and read a few comments from their nominators:
Kenneth Lederle
Assistant Director-Registration, Community Music School, Webster Groves
Nominated for: team effort and peer collaboration and consistently providing high quality, reliable and critical work that, if undone, would halt highly visible operations
"Kenneth Lederle, officially the "Assistant Director - Registration" for the Community Music School, assumed the role and responsibilities of Director after the retirement of longtime CMS director, Carol Commerford, until such time as a new director could be found. This, of course, also occurred during the prolonged difficulty and uncertainty of the COVID situation in our world. Without Ken's leadership, dedication, and inspiration, suffice it to say things would've been utter shambles. Ken has consistently gone above and beyond the call and has done so without ever sacrificing his innate Goodness nor sparing the thoughtfulness and care he ceaselessly delivers to both staff and families alike. Under Ken's leadership, the CMS hasn't missed a beat and has even managed to stay well ahead of the efforts to implement modified operations at the university, consistently being an exemplar in these strange times."
"Under Ken's direction, CMS was able to successfully start their Fall semester for all programs in a hybrid model – fulfilling the needs of CMS faculty and the CMS student community without interruption. He also developed and modified safety protocols and contingencies for the unique CMS population in line with the Webster University COVID-19 Transition team recommendations. It is difficult enough to act as interim director when a long-term leader has retired. To do so during a global pandemic is a herculean task. Ken didn't just persevere, he provided true leadership with enthusiasm, vigor, optimism, and a sense of humor – empowering the staff and faculty of the Community Music School to think creatively, and to move forward confidently."
"Ken Lederle has shown outstanding leadership during an unprecedented transition at CMS...During that time, Ken led our group (in addition to doing his normal job) with solid expertise and trust. He helped us navigate un-surety, put programs online that otherwise may have failed, and helped us anticipate the vast amount of what needed to be done for a successful fall. Throughout this all, I marveled at his constant good cheer and forward motion. He kept us encouraged, united, informed as much as he could, and confidently (and courageously) kept the staff and the CMS program on the path of continuous improvement. Ken has always been extremely helpful to our staff, faculty, and families. He is very humble in the vast amount of experience he brings to our group. He is genuine and believes in the cause of the Community Music School. Furthermore, he knows how to multiply the collective power of the team. It is a privilege to work with Ken. None of us would have survived last summer were it not for him!"
Ciera Kilgore
Department Assistant, Greenville metro
Nominated for: consistently providing high quality, reliable and critical work that, if undone, would halt highly visible operations
"Upon the absence of the Recruitment Coordinator due to FMLA in October 2019, Ms. Kilgore has been the individual who kept the campus operative. Although there was a Director and a Core Faculty still at the campus, it was Ms. Kilgore who ensured that deadlines were met, that schedules were published, students were enrolled, and the operation of the campus was maintained. Then in January 2020, the Greenville Campus Director departed, leaving only the Core Faculty and Ms. Kilgore at the campus, with many tasks requiring immediate attention. Ms. Kilgore was the one who assumed this responsibility! Her job position is Department Assistant, but she assumed the tasks related to an Office Manager's position as well as the Director's position. She was PHENOMENAL at keeping the campus operating without any assistance by her co-workers. She has performed admirably in the past 10 months juggling the duties of Department Assistant, Office Manager, Representative (for VA actions) and Recruitment Coordinator, without monetary compensation, and with only the success of the campus in mind! As each new experience is presented to her that a Representative/Office Manager/Director normally accomplishes, she has approached these as opportunities for growth and learning. A prime example is when complaints are received from students in regards to erroneous course enrollment caused by either the previous Director or the core Faculty, SHE is the one they seek out to assist in rectifying the issue. She is immediate in her attention to their problem, contacts the appropriate individuals for resolution, and performs follow-up actions to ensure that the problem has been resolved to the student's satisfaction. Ms. Kilgore is student-focused, loyal to Webster University, and dedicated to the success of her campus!
Although with limited resources and manning, team effort and collaboration is her forte! Upon the departure of the Core Faculty, the manning at the site now is only two employees. But she perseveres to continue outreach to the other staff within the region to share best practices and stay abreast of the changes in policy/procedures that Webster University has experienced during this COVID environment. Among Ms. Kilgore's many attributes, she is a process oriented individual. This has proven extremely valuable to the success of this campus to date. Her collaborative approach in her dealings with members of the Greenville and Mauldin Chambers, her students, other campus staff members, and the Regional Director continues to enhance our reputation in the Greenville community.
Her outstanding performance to date has led to increased enrollments at the Greenville Metropolitan Campus. She has achieved the desired outcome despite the adversity of the COVID restrictions."
Greg Malone
Technical Project Manager, Informational Technology, Webster Groves
Nominated for: Consistently providing high quality, reliable, and critical work that, if undone, would halt visible operations
"Greg Malone goes above and beyond to provide high quality support for the Tashkent campus. From helping students get their webster.edu email accounts set up to troubleshooting new software implementation challenges, he is always here for us. He is always quick to jump on a video call in order to address problems in real time - which helps make the 12-hour time difference feel just a little bit more manageable. When problems arise, he is one of my first go-to people for help. When the Zoom migration interrupted established zoom meeting links, Greg and his team figured out a way for the Tashkent Team to have access to the original profile, give us access to the large Zoom Meeting room, and allowed the event to go off without a hitch. This provided a seamless student experience for the over 650 attendees we had at the event. I do believe some behind-the-scenes IT magic happened in order to pull this off. The reason I call out this example is because even though it was not an easy solution, Greg never made it seem like a lot of work or that we were causing a problem by needing this special help. He has many priorities but he always makes everyone he works with feel important. That makes Greg a team player who provides high quality service which improves the critical work happening throughout the university."
Liza Dister
Assistant Director, Faculty Development Center, Webster Groves
Nominated for: Approaching problems as opportunities for growth and learning
"I would like to nominate Liza Dister for the Gorlok Greats award in recognition for her brilliant work supporting faculty and staff during the COVID-19 pandemic. When Webster suddenly pivoted to an all virtual model of program delivery, there were many faculty who needed a great deal of guidance and mentoring in order to successfully transition their courses to the new modality. Liza drew upon her extensive knowledge of both educational technology and pedagogy to assist faculty 1:1, in groups, and in larger format webinars to develop innovative solutions to delivering courses at a distance. She also provided guidance on how students' well-being during these challenging times might impact how they approach their coursework, and therefore how faculty might adjust their expectations to promote compassion while still maintaining rigor. Finally, Liza led weekly peer support meetings for faculty and staff in order to maintain morale during these uncertain times. I found these support meetings particularly valuable and affirming during a time when I was otherwise feeling isolated and overwhelmed. Dr. Dister stepped boldly into uncharted territory to ensure that faculty and students could still have high quality learning experiences despite sudden and significant changes that were beyond anyone's control. Therefore, I can think of no one more deserving of recognition than Liza Dister."
Linda King
Representative, San Antonio metro
Nominated for: Consistently provide high quality, reliable and critical work that, if undone, would halt highly visible operations
"Upon the departure of the Director end of April 2020, Ms. King assumed the critical tasks of this position, as well as STILL completing her own duties of Representative in order to maintain the operation of the campus. She has performed admirably in the past 4 months juggling the duties of Acting Director, Assistant Director, Office Manager and Representative, without monetary compensation, and only the success of the campus in mind! She has become the FACE of Webster University in the San Antonio area for our students and faculty. As each new experience is presented to her that a Director normally accomplishes, she has approached these as opportunities for growth and learning. A prime example is the Higher Education Coordination Board (THECB) for the State of Texas, and the Veteran Administration (VA) renewal applications that are due annually. It is normally in the realm of the Director to complete and the packets are extensive. However, she tackled these with vigor and completed each with accuracy. Her submission was timely and these requirements MUST be met in order for the campus to gain approval for continued operation within the state of Texas. Therefore, we are still in good standing with these prominent state agencies due to Ms. King's diligence and dedication to the campus.
With limited resources and manning, Ms. King has included the military site directors to be inclusive of the decisions pertaining to the operation of the Metro site that impacts the military sites. As equipment is being delivered and cannot be deposited to the appropriate military site, Ms. King has made provisions to store these essentials at the Metro location until access to the military base is granted. She has moved forward in her position as Acting Director to participate in the Region's staff meetings with the military directors so they are in sync with what resources could be regionalized in order to save money for Webster University in these times of budget constraints. There have been several occasions that the military classes had to be moved to another location due to internet constraints or access to the military reservation. Ms. King has always provided her facility and resources at a moment's notice to accommodate these students.
Team effort and collaboration is her forte! The Veteran's Administration for the State of Texas recently notified her of a compliance survey, by which she had never participated before. She did outreach to the other Directors to share best practices and does not hesitate to share results with the military sites who are nearing a compliance survey visit. This collaborative approach allows Webster University to be seen as proactive when dealing with Veteran issues and builds our reputation within the San Antonio region as one of compliance with VA recording keeping and disbursements of funds.
Her outstanding performance to date has led to increased enrollments at the San Antonio Metro campus. She has achieved the desired outcome despite adversity of the COVID restrictions."
Melissa Fritz
Representative, Public Safety Office, Webster Groves
Nominated for: Consistently provide high quality, reliable and critical work that, if undone, would halt highly visible operations and contributing to University mission, values, and goals
"Melissa Fritz has been charged with hiring, training, and managing a crew of student workers to screen those entering buildings on campus to ensure that they have completed the COVID-19 health self-assessment form. Melissa had to develop this team quickly in order to be ready for the start of fall term. She has done a stellar job with this, and the students she has hired are performing their duties effectively to meet this critical need. Melissa's communication skills are excellent. She keeps our unit up-to-date regarding scheduling of the desk attendants for our building, and responds to questions promptly and professionally. Her student workers provide extensive coverage across campus, and Melissa has worked effectively in a very short time to communicate expectations to these student workers and to ensure that all shifts are filled. Thanks to her efforts, there is reliable desk attendant coverage in our building. I greatly appreciate Melissa's efforts, and I am so impressed by what she has accomplished in such a short time!"
"Melissa Fritz was tasked with hiring, training, and supervising up to 100 new student Building attendants. I've hired, trained and supervised anywhere from 12 to 25 student employees each school year since 2004 and I am, consequently, familiar with how difficult and rewarding that part of the job is. She's doing an excellent job. She uses superior verbal and written communication skills to not only keep my team informed but to also help us solve any problems which arise. This is a both a brand new role for her and the University and she's absolutely the right person for the job. She always uses her excellent communication skills, friendly demeanor and professionalism to execute her duties to the best of her ability."
Dorothy Kishbaugh
Department Coordinator, Business and Management Department, Vienna
Nominated for: Consistently provide high quality, reliable and critical work that, if undone, would halt highly visible operations and team effort and peer collaboration and contributing to University mission, values, and goals
"In addition to providing stellar service to students and faculty as an Academic Coordinator in the Business and Management department, Dorothy Kishbaugh is the chair of the Vienna Campus Working Group for Equal Opportunity (WGEO). The WGEO furthers the University's core value of Diversity through the promotion of Equity, Diversity and Inclusion (EDI) on campus. The WGEO has offered workshops, drafted action plans, initiated campus climate surveys, and collaborated with the Human Resources department, Student Government, the Student Resource Center and the Webster Vienna community more broadly to further EDI. Working without a budget and without a work-time allowance, Ms. Kishbaugh's leadership has held this voluntary group together, kept the group on mission and on schedule, and presented a positive and cooperative external presence for the group that eased mission acceptance with reluctant stakeholders. Because Ms. Kishbaugh's work in this area goes largely unacknowledged."
"Dorothy's work it absolutely outstanding. As a department coordinator for the Business and Management department, she holds a great part of our university operations together by being one of the most outstandingly competent, dedicated, and collegial members of our community. I highly value her as a colleague, who always has an answer to the most difficult administrative questions, who will always find a solution for difficult situations, and who goes above and beyond to support students, staff, and faculty at our campus. This commitment is also visible in her invaluable service as the head of our campus' working group for equal opportunities. She has spearheaded the development of a new affirmative action plan, initiated events for international women's day, workshops to foster diversity, and community outreach to strengthen and empower diverse voices. Dorothy's work is consistently reliable, of impeccable quality, and critical to the university's operations and our community coherence."
"Dorothy is a wonderful leader in her campus work with the WGEO. She stands out as our diversity manager and continues to build on projects that raise visibility for the group and the university in a positive light. As a group we touch on initiatives such as an international women's day panel, workplace status checks and workshops as well as university climate surveys, all of which Dorothy oversees and helps us to lead so that we can ensure progress on campus."
Madina Rajapova
Graduate Studies Registrar, Tashkent
Nominated for: Team effort and peer collaboration
"Madina is fully committed to the growth and development of Webster University in Tashkent. Initially appointed by a partner university to assist Dr. Slobodan Pesic establish WUT's first office in Tashkent, Madina subsequently joined our team as Campus Registrar, Graduate Services in January 2020. Her contribution to our campus' success has been phenomenal. In her key role, she shepherds our graduate students through their unfamiliar territory; is kind and considerate, a brilliant presenter, translator extraordinaire, loyal, trustworthy and dedicated to the values and mission of Webster. Madina is our local expert in developing the cultural awareness of our international faculty, staff and administration."
"Madina's role is primarily overseeing graduate programs or students, but she has shown time and time again that she will do whatever it takes to provide students a quality learning experience. This intake she worked to develop the undergraduate schedule, enroll a record number of students in classes, and acted as the sole individual who made schedule changes for the Tashkent campus. She went above and beyond, all while remaining positive and providing high quality service to the students. She truly embodies the spirit of a Gorlok Great and helped us achieve our largest incoming class to date in Tashkent (and - I believe - the entire Webster network)."
Nominees
It's clear that Webster University has an abundance of incredible employees. While there were only eight Gorlok Greats Award winners this semester, Webster would like to recognize all of the extraordinary nominees. These individuals help push Webster to the next level.