Webster Faculty in International News: On Biden Administration, Putin
Recent news media coverage with expertise from Webster faculty includes:
Pease,

Schoellhammer on Expectations for Biden Foreign Policy
Kelly-Kate Pease, international relations professor at the main campus in St. Louis, was quoted in the El Mercurio, Chile's national newspaper of record. regarding the selections for U.S. President-elect Joe Biden's foreign policy team.
In comments quoted in El Mercurio, Pease said that all of the nominees have extensive experience in their fields and will represent a contrast their predecessors in the Trump administration. She many countries will be happy for the United States to once again embrace a role as a builder of world order.
Read the article in Spanish in El Mercurio here.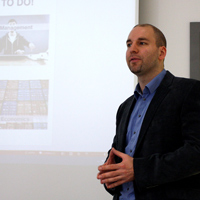 However, Webster Vienna Private University professor Ralph Schoellhammer cautions that particularly Europe's excitement for the Biden victory may be premature, as some of the economic and trade policies in the Biden platform are similar to his predecessor.
"The role of the benevolent hegemon to maintain a liberal world order of free trade is as unpopular with the Democratic base as it is with the Trump base," Schoellhammer writes. "A return to a Clinton-era commitment to globalization will not materialize under the new administration."
Read the full column at the Jerusalem Post here.
Reshetnikov: Trolls Campaign to Protect Putin's Reputation
Professor Anatoly Reshetnikov, also of Webster Vienna, wrote a guest column in Der Standard about how Internet "trolls" that are loyal to Vladimir Putin are working to protect Putin's reputation through a sophisticated campaign of disinformation.