Faculty Spotlight: Jean Paul van Marissing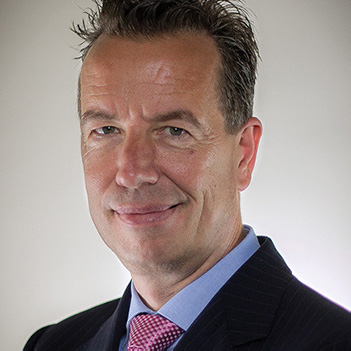 Professor Jean Paul van Marissing is the director of Webster Leiden Campus. He has a Ph.D. in European law and a Master's degree in international law.
According to Van Marissing, acquiring the position of director at Webster Leiden had much to do with timing…
"My position here is actually something that happened by chance," he says. "I had been a competition lawyer for 15 years for a global law firm. Before that, I worked in Brussels, representing the Dutch government at the European Union, another global environment. When I applied for the position of director at Webster (in 2010), I was a professor at Nyenrode (since 2005). That was and still is a hobby. I don't get paid for it, but it is my way to give something back to society.
"But more importantly, I discovered that I really enjoy being in an academic environment. So, when I was considering a career change, the possibility of working for Webster seemed like the perfect fit. The fact that I'm still with Webster after more than ten years proves that it was the right choice at the right time."
Webster Provides Opportunities for Growth
"Webster provides great opportunities for growth, for doing new things and taking on new responsibilities as you go along. Webster is a global university operating in a challenging global environment. And I mean that in a positive way. There is never a boring moment. Besides, I believe that whatever you are doing, there are always opportunities to improve the quality of your performance. It's like a feeling that's always with me. Every day, I keep asking myself. How can you do a better job next time? Asking myself that question motivates me. It inspires me. I see it as a constant challenge. A challenge that I love."
When it comes to working at Webster Leiden, there are a couple of things that stand out to van Marissing.
"Obviously, it's an academic environment, but since we are a private (non-profit) institute, it is also -- at least to a certain extent -- a business. We have our own budget, marketing and recruitment. So it is a business. But it's a business in education. That means, at the end of the day, it's always about people. And that's the part that I love most. It's about people. Their personal development, their ambitions and their future. What can be more meaningful?"
International Aspect Fuels Global Community
Van Marissing says the the international aspect is also very important to him and so many others at Webster.
"The fact that we are in Geneva, Chengdu, Accra, St. Louis and many other places in the world," he says. "We are working closely with the other campuses around the globe. For example, I have regular meetings with my international colleagues, discussing strategies and recent developments in global education.
A Smaller, Personal Community in Leiden
"Another interesting aspect is that we are small scale," says van Marissing, noting an attribute that draws many students to Webster.
"Imagine if there were 4,000 students here at our Leiden campus. It would be a completely different experience. For example, I have the opportunity to meet with the SGA (student organization representing all Webster Leiden students) every two weeks. I meet with them for an hour and we discuss everything they find important. I listen and I learn. And it is a wonderful experience to see how individual students development over time."
History of Diversity, Equity and Inclusion
Webster has a rich history of promoting female leadership and diversity, which Van Marissing is very passionate about.
"Most of our presidents have been women," he says. "At the beginning, more than a century ago, Webster offered education free of charge to working women who couldn't afford higher education. Until this day, there's still a lot of focus on empowering women in leadership.
"We organize lectures, seminars and workshops on the topic. But it is not just about academics. We also support a foundation, Bridge2Hope, which supports victims of human trafficking. Our students are involved, and I admire their commitment. Today, empowering women is still a very important issue. Much has been achieved, but there is still a long way to go. Webster will always be at the forefront, and that is something I am proud of."
We are a truly global community. Most of our staff and faculty were born elsewhere, studied elsewhere and started their careers elsewhere.
As he talks about Webster, Prof. van Marissing wishes to highlight another key element that is very much relevant to the mission of Webster University.
"When thinking of our students, staff and faculty, there is one element that is more important than anything else… we are a truly global community. Most of our staff and faculty were born elsewhere, studied elsewhere and started their careers elsewhere. We are proud of our diversity, and we celebrate it as much as we can.
"Working in such a global setting requires having a global mindset: a mindset enabling you to overcome cultural hurdles and making you much more aware of the importance of careful communication."
Focusing on developing a global mindset is in line with the mission of Webster University: transforming students for global citizenship.
"Our students are from around the world. That means that in our (international) classrooms, students need to show understanding and appreciation for one another's background and points of view. It's an academic environment that helps our students to further develop a global mindset. In our classrooms, we embrace diversity."
Van Marissing says he has learned a lot during the last 10 years as director at Webster Leiden.
"I am still learning, and I want to keep learning every day!" he says. "I continue meeting people from different backgrounds with different stories. I think the biggest lesson I've learned while working here is the importance of communication: how to communicate more effectively, but also in a way that makes people feel at home and appreciated."
Making Everyone Feel at Home
"Working in an international environment means that most of the time, you are working with people who are (far) away from home. My goal is to make everyone feel at home by creating an environment that feels like a home away from home.
"And it doesn't matter whether it is a staff or faculty member or a student. Everyone at our Leiden campus needs to feel at home and appreciated in our global community. I believe this is the best recipe for success. And after more than ten years, I still wake up every morning, thinking how fortunate and grateful I am for being part of this amazing, global community."