Linda Woolf's Webster Story Takes Psychology Professor to Height of Her Field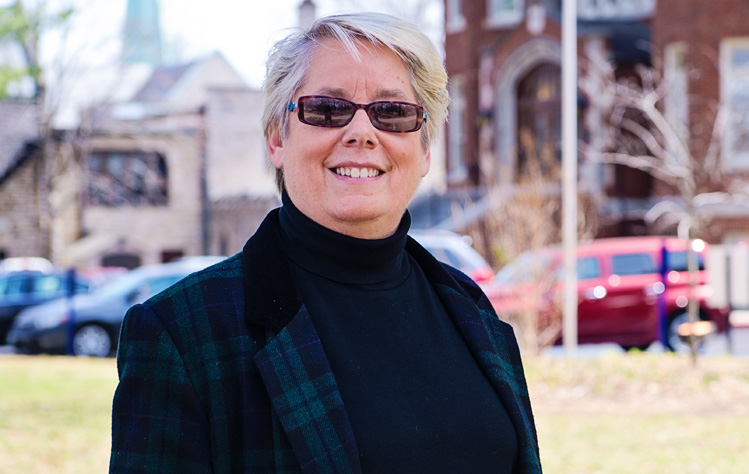 Webster University alumna, psychology professor and donor Linda M. Woolf (BA '79) has achieved one of the highest lifetime honors in her field, earning the Charles L. Brewer Award for Distinguished Teaching of Psychology by the American Psychological Association/American Psychological Foundation. Only one professor of psychology in the United States is selected each year for this distinction.
Woolf has taught at Webster for 34 years, including two years as an adjunct early in her career. She currently teaches in the Psychology Department and the Center for International Human Rights in the College of Arts & Sciences. A frequent online columnist for Psychology Today, she has committed her life to advancing human rights and social justice. She is a sought-after speaker and contributor to scholarly journals and books on topics on human rights, diversity, hate groups, the Holocaust and women's rights.
Among her many accolades are a Presidential citation from the APA for her human rights work, a "Champion of Psychology" award by the Association for Psychological Science, and a Society for the Teaching of Psychology Award from National Institute for the Teaching of Psychology. She also served on an APA task force condemning psychologists' collaboration with the U.S. government on interrogation methods of foreign prisoners.
'Professors who know their students, innovative teaching, and so much more'
"I wouldn't be who I am today without my early years at Webster University – Webster College back then," recalls Woolf, who is also a longtime supporter of Webster's fundraising efforts. "Webster was so much smaller decades ago! Nonetheless, the features that make the university special today were part of the college during that time. Small classes, professors who really get to know their students, innovative learning, and so much more."
Initially attracted by its strong theater program, this budding thespian from Ohio quickly switched her major to psychology at the suggestion of a roommate. She blossomed in those studies and developed a passion for both learning and teaching. She organized and taught a reading course as well as a seminar on depression. Woolf credits many Webster professors for helping her grow.
"Professors such as Marguerite Craft, Seena Kohl, William HuddlestonBerry, and so many others sparked my passion for learning," she said. "Moreover, the traditions left by the Sisters of Loretto deepened my commitment to human rights and social justice. Today these traditions remain alive in my teaching and my work within the American Psychological Association."
After receiving her Bachelor of Arts in Psychology at Webster, Woolf earned a master's and doctorate in Psychology from Saint Louis University. She returned to Webster in 1986 as a lecturer, attaining full professorship in 2003. In 2000, she was honored with the William T. Kemper Award for Excellence in Teaching, the highest award offered by Webster to its faculty. She has also earned two Emerson Electric Excellence in Teaching Awards, a distinction as one of the best teachers in the greater St. Louis region.
To learn more about Dr. Woolf, click here.