Webster Alumnus Nominated for U.S. Secretary of Defense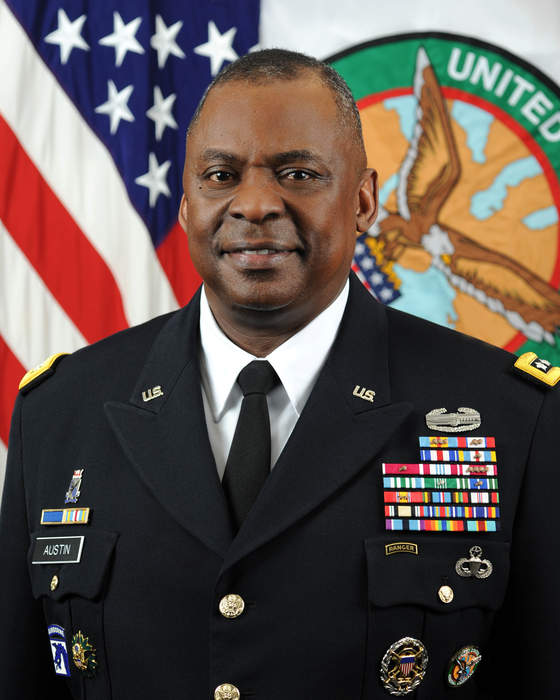 Retired Gen. Lloyd Austin III, a Webster University alumnus, was nominated Wednesday by United States President-Elect Joseph Biden to be the Secretary of Defense. If confirmed, Austin would be the first Webster alumnus to serve in a cabinet position in the federal government and the first Black man to serve as Secretary of Defense in the United States.
Austin earned a master's from Webster in 1989 and has twice been honored by the University as an outstanding alumnus.
"We are extremely proud that a Webster alumnus has been tapped for this significant role and that a Webster alumnus will break barriers in the federal government and become the first Black Secretary of Defense, pending appointment by Congress," said Webster University Chancellor Elizabeth (Beth) J. Stroble. "I offer my congratulations to Gen. Austin for this recognition of his exceptional leadership and service. Members of the Webster University community take pride in his significant career accomplishments to date and those yet to come."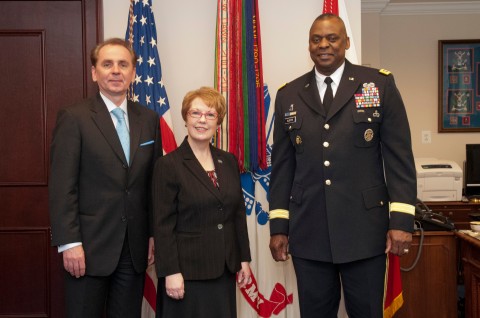 Above: Webster leaders Schuster and Stroble met with Gen. Austin and presented him with the Distinguished Alumni Award during their annual visit to D.C. in 2013.
"This is exciting news and I am proud that one of our most distinguished graduates is at the center of it," said Webster University President Julian Z. Schuster. "Both Chancellor Stroble and I had the honor of meeting with Gen. Austin several years ago and we were both impressed with the breadth of his knowledge and his leadership skills. I am convinced that his tenure as the Secretary of Defense will be marked with great achievements."
Austin is a native of Mobile, Alabama, but was raised in Thomasville, Georgia. He graduated from the United States Military Academy (West Point) with a Bachelor of Science degree in 1975. He earned a Master of Arts degree in counselor education from Auburn University in 1986 and a Master of Arts in Management and Leadership from Webster University's Platte City location in 1989. The Platte location was merged with the Fort Leavenworth location in 1999.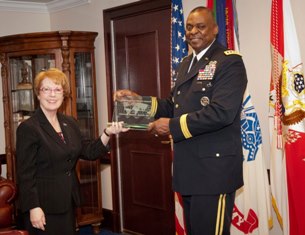 Webster University named him a Notable Alum on April 30, 2010, and on June 19, 2012, he received the Distinguished Alumni award. Due to a scheduling conflict, Austin was unable to attend the Distinguished Alumni ceremony.
Instead, his award was personally delivered by Stroble and Schuster in February 2013 during the Webster leaders' annual visit to legislative representatives, federal departments, professional associations, alumni and local embassies in the national capital.
At the time of that meeting, Austin was the vice chief of staff for the United States Army and had served as the last commanding general of the United States Forces – Iraq Operation New Dawn. Three days after meeting with Schuster and Stroble, Austin testified in front of the U.S. Senate as President Barack Obama had nominated him as the 12th commander of the United States Central Command. His appointment was confirmed and he became the first Black commander of that unit. He officially retired from the Army as a four-star general in 2016.
Prominent Webster Alumni
Austin is not the first Webster graduate to be considered for a prestigious national-leadership position. Earlier this year, Congresswoman Val Demmings, who has a master's degree in public administration from Webster's Orlando location, was among the finalists under consideration to run as vice president with President-elect Biden.
Numerous other Webster alumni have served in prominent national roles over the years. Among them are:
Webster alumnus John Boccieri served as the U.S. Representative for Ohio's 16th congressional district from 2009 to 2011. He also previously served in the Ohio State Senate and the Ohio House of Representatives.
Webster alumnus and retired four-star general Bruce Allen Carlson served as the 16th Director of the National Reconnaissance Office before retiring in 2009.
Webster alumna Lillian Elaine Fishburne was the first African-American female to hold the rank of Rear Admiral in the United States Navy. She retired from the Navy in February 2001.
Webster alumnus Maj. Gen. William D. Catto served as the chief of staff of the United States European Command from 2006 to 2008.
Webster alumnus Lt. Gen. Michael C. Gould served as superintendent of the U.S. Air Force Academy from 2009 to 2013.
Rear Adm. Mary E. Landry MA '82 (Tustin MCAS, CA), District Commander, United States Coast Guard, is responsible for U.S. Coast Guard operations covering 26 states, more than 1,200 miles of coastline and 10,300 miles of inland waterways.
Adm. Paul Zukunft MA '88 (Corpus Christi), 25th Commandant of the U.S. Coast Guard (began May 30, 2014); leads the largest component of the Department of Homeland Security, composed of 88,000 personnel including active duty, reserve, civilian and volunteer Auxiliarists.
Gen. Paul Selva served as the 10th Vice Chairman of the Joint Chiefs of Staff, and was the nation's second highest-ranking military officer, and the highest-ranking officer in the Air Force. He was conferred an honorary doctorate from Webster University in 2017. A more comprehensive list of notable alumni can be found online.
While not a Webster alumnus, former Webster President George Donovan took a two-year leave of absence in 1948 to be the Chief of Education as part of the Civilian Administration to rebuild Germany. In 1950, he retired from Webster to head educational and cultural affairs programs for the United States in post-war Germany, at the request of U.S. President Dwight Eisenhower.