President's Update to Employees on COVID-19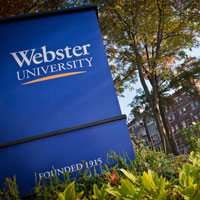 The following message was distributed to Webster University employees on March 10, 2020:
To Webster University Employees:
We want you to be aware of the University's policy and plans for maintaining educational continuity as we continue to monitor the coronavirus (COVID-19) situation. Out of an abundance of caution, Webster University's COVID-19 Task Force has been reviewing online classes, remote operations and other comprehensive measures as some of the options that could be implemented if the situation continues to evolve.
Unit and department leaders are reviewing what would be required to implement remote work for staff members if necessary. Similarly, we have activated the first steps of Webster's Instructional Continuity Plan, which details how we offer courses remotely via online modalities in the event of a large-scale disaster, such as a major weather or viral health event that results in extended closure of a campus or campuses.
Faculty who teach spring 2020 courses are being contacted by the Online Learning Center about how they can prepare to migrate their instruction to the online environment. Staff who support faculty and students are preparing to provide additional instructional and learning support that would accompany that migration.
While at present no Webster locations have been closed due to this viral outbreak, it is essential that we plan ahead so that we can continue providing our students a high-quality education.
Thank you for being there for our students, and for supporting one another as our community navigates this evolving situation. We will continue to educate our students, inform our community, and work for the safety of all.
Julian Z. Schuster
President