Replay: Media Veterans Carol Daniel, Eric Deggans Discuss Race and News on Webster Speaks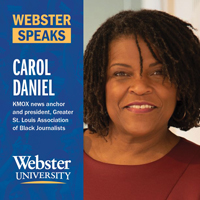 How does diversity in America's newsrooms impact the quality of reporting? Two prominent journalists addressed that question and others in the fourth episode of "Webster Speaks: Dialogs on RACE, EQUITY and INCLUSION."
Host Vincent C. Flewellen, Webster's chief diversity officer, interviewed Carol Daniel, longtime KMOX news anchor, and Eric Deggans, National Public Radio TV critic and author, on Aug. 19.
Which news outlets handle race and diversity issues poorly and which ones well?
Where did Eric Deggans get the title for his book?
What special audience member surprised Carol Daniel during the livestream?
The two veteran journalists agreed that diversity is essential in America's newsrooms. "Point of view matters and we bring a different point of view, both as African Americans and, for myself, as a Black woman," said Daniel, president of the Greater St. Louis Association of Black Journalists. "We have a historical reference point that maybe others don't have."
Deggans, author of the 2012 book, "Race Baiter: How the Media Wields Dangerous Words to Devise a Nation." agreed. "Diversity is an important part of accuracy," said Deggans. Although many cities are becoming more diverse, media outlets remain largely white and monolingual. "They are forced to cover these stories and these issues, and they don't have the diversity in their newsroom to accurately cover it," he added.
Change still meets with resistance, however. "Most news directors around the country are white men," Daniel said. "That is not to say they can't understand the need to diversify their newsrooms. Some just don't believe it. They don't think it's an issue."
Both panelists agreed, however, that change must come from news audiences demanding better coverage, and journalists of color challenging their leadership.
Lack of diversity also results in reporting that tends to villainize people of color and humanize whites. Daniel recalls news outlets describing the young white victim of a violent murder as a doctor's daughter. "Why is that relevant?" she recalled challenging her peers in news. In contrast she said, a Black victim will often be given a level of scrutiny that focuses on negatives, or be depicted using a mugshot instead of, say, a Facebook photo.
Even describing wanted suspects solely by race is not in the public interest, Daniel says. "The race or ethnicity of a person is not a description …you have to have physical characteristics, height, weight, hair color, clothing. If you just hear ethnicity, call that media outlet and call them out on it," Daniel said.
Chancellor Elizabeth J. "Beth" Stroble joined the panelists at the end of the livestream, praising them for their admonition to boldly challenge the status quo. "We need the passion of youth; we need the wisdom and leadership of experience," said Stroble. "That combination together is what will make this get better. It's hard to imagine we're still fighting the fight that we are on so many fronts, but it's really important."
Next Episode of Webster Speaks
The next "Webster Speaks," at 7 p.m. CDT on Sept. 2, will focus on activism in sports with special guest, Jackie Joyner-Kersee. The six-time Olympic medalist and founder of an eponymous foundation in her native East St. Louis, Ill. will explore the topic of "Black Athletes, Powerful Voices."
Registration is required; it is free and open to the public at webster.edu/WebsterSpeaks. Ask Joyner-Kersee questions while registering or on Twitter using #WebsterSpeaks.