Spring 2020 International Distinction Award Recipients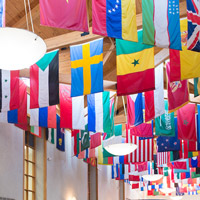 The Office of Study Abroad is pleased to announce the Spring 2020 International Distinction award recipients.
International Distinction recognizes bachelor's degree students who meet achievements in international education while at Webster, including advanced proficiency in a foreign language, study abroad and international fieldwork.
The May 2020 recipients are a special group, as Webster will be honoring four students, each from a different campus (Webster Groves, Vienna, Geneva and Thailand).
The award will be annotated on the recipients' diplomas and official transcripts, and they will be recognized at the graduation ceremony.
Below is a list of the students who are receiving International Distinction honors this year:
Daisy James-Weidner | Webster Vienna | Media Communications | United States
Daisy will receive her degree from Webster Vienna. She studied abroad in St. Louis and in Seoul, South Korea. While in Vienna Daisy completed German coursework through the advanced level and gained professional experience by completing an internship with a website and digital services agency.
Ashley Indelicato | Webster Groves | International Human Rights | United States
Ashley will receive her degree in Webster Groves where she studied Spanish through the 3000 level. Ashley studied abroad in Thailand, and while there completed significant field research and submitted a research paper, which encompassed themes of climate justice, ecofeminism, environmental racism, and de-colonialism.
Finn McFadyen | Webster Thailand | International Relations | United States
Finn will receive his degree from Webster Thailand. He was a student at Webster Geneva before studying abroad at the Thailand Campus, where he eventually transferred. He also pursued an additional study abroad term at Webster Vienna. While in Geneva, Finn completed a minor in French. Later, he completed coursework through intermediate German at Webster Vienna. Finn completed his internship with the American Chamber of Commerce in Thailand.
Isabella Lucia Salom Urrego | Webster Geneva | International Relations | Colombia
Isabella received her secondary education in Spanish before studying at Webster Geneva. Isabella also studied abroad in Thailand. While in Geneva, she served as Vice President of the Webster Humanitarian Association and through a partnership completed an internship with an NGO in Bosnia and Herzegovina that offers psychosocial support to women and children victims of war and other violence.
The Office of Study Abroad manages the application process for International Distinction. Further information and a link to the application can be found on the International Distinction Award webpage. Please contact the Office of Study Abroad with any questions about this opportunity.