Webster University Announces 10 Donald M. Suggs Scholarships Awarded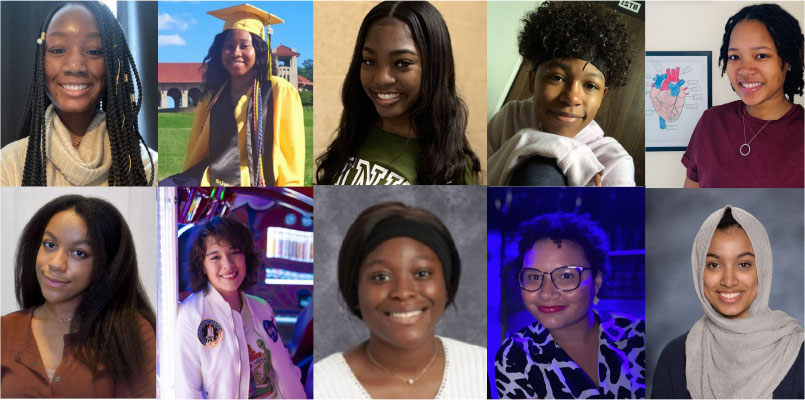 Top row, left to right: Habeebullah, Plair, Mairidith, Echols, Muhammad, Bottom: Johnson, Ferch, Akinyemi, Brock, Yasir
ST. LOUIS -- Webster University is pleased to announce 10 incoming freshmen have been awarded the Dr. Donald M. Suggs Scholarship, a four-year full scholarship. This year, Webster increased the number of Suggs Scholarships fivefold, from two to 10.
The announcement was made this week by Chancellor Elizabeth (Beth) J. Stroble, and the University has stepped up to cover the costs.
"We are thrilled to be able to increase our Suggs Scholars. We know these students are engaged and talented and will become leaders on campus," Stroble said. "We look forward to their contributions in the classroom and in the community during their time at Webster. We have confidence they will make their mark in their world when they leave us."
The 10 incoming Suggs Scholars come from throughout the bi-state region:
Machaela Brock | Francis Howell High School
Jessica Echols | Hazelwood West High School
Bolanle Akinyemi | Fort Zumwalt West High School
Juliette Ferch | Fox Senior High School
Khalisah Habeebullah | Francis Howell High School
Dashauna Mairidith | Soldan International Studies
Joi' Johnson | Edwardsville High School
Naba Yasir | Parkway South High School
Jalalah Muhammad | Collegiate School of Medicine
Khyree Plair | Hazelwood Central Senior High School
These 10 new Suggs Scholars bring Webster's total to 17, two of whom have already graduated. There are currently five Suggs Scholars in residence at Webster University:
Jovan McBride | Management
Jalen McBride | Management Information Systems
Henok Moges | Exercise Science
Brennae Jackson | Education
Tekoa Bell | Political Science
"The Donald M. Suggs Scholarship meant the world to me because I could pursue a college degree without constantly worrying about an extreme financial burden," explained Joshua Tyler, a 2014 Suggs Scholar. "I feel more confident about my dream to work in the video/film production field."
About the Dr. Donald M. Suggs Scholarship
The Dr. Donald M. Suggs Scholarship was established to honor Dr. Donald M. Suggs, an oral surgeon, newspaper publisher, patron of the arts, and distinguished community leader. The scholarship is designed to enhance recruitment and retention of academically talented undergraduate students from communities that are typically under-represented in high education.
About Webster University
With its home campus in St. Louis, Missouri, USA, Webster University comprises an action-oriented global network of faculty, staff, students and alumni who forge powerful bonds with each other and with their communities around the globe. Founded in 1915, Webster is a private non-profit university with students studying at campus locations in North America, Europe, Asia and Africa and in a robust learning environment online. The university is committed to ensuring high-quality learning experiences that transform students for global citizenship and individual excellence.