Webster Tutors Help Struggling Students During Pandemic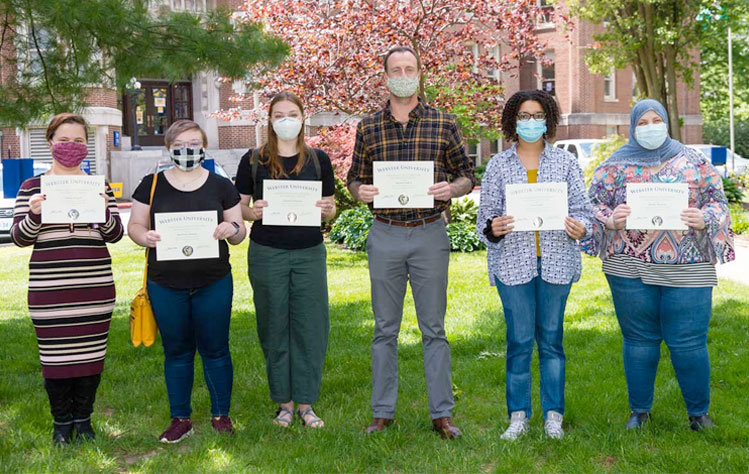 Some of the Webster student tutors who assisted K-12 students in need during the pandemic (left to right) Cassidy Waigand, Mackenzie Ramseier, Cheyenne Dickemper, Michael Guthrie, Z'necia Hall, and Shafiha Masarrat.
Twenty-eight Webster University students volunteered during the past year to help local learners who struggled as they navigated world of online learning during the pandemic.
The students tutored were from local K-12 schools and other educational programs that serve students from low-income communities, students who may not have an English speaker in the home, adult students seeking their high school equivalency and adult students learning English as a second language.
"The Webster tutors have been a special community partner at Patrick Henry Elementary," said Deborah Rogers, principal of Patrick Henry. "Our Webster partners have reached us all the way in north downtown St. Louis in the Columbus Square neighborhood. Many of our students are years behind in reading and math, which impacts their understanding of other subject areas. The need for academic intervention is so great that it overwhelms what a teacher can do in one year on their own.
"Add in a pandemic and a virtual class setting for two quarters, and you can see how we are stretched too thin to make the impact we need to make," she continued. "We rely on our partners at Webster to fill in the gaps where we cannot: tutoring students in reading and math; working with teachers to develop an individual plan for students; build relationships with students and families that impacts their day to day happiness at school; and supporting teachers in practical ways. Thank you to all of our tutors and coordinators who help us reach every child every day!"
Out of all the Webster students who volunteered, 25 did so through the Student Literacy Corps (SLC) and the remaining three worked through Webster's Math Tutoring Program. Both programs are organized by the Webster University School of Education.
Prior to March 2020, both programs performed all their assistance in face-to-face settings, but both programs went fully online due to the pandemic. This summer, a mix of face-to-face and online tutoring sessions will be available.
Student Literacy Corps Tutors
Jarod Allen
Abigail Anderson
Daniel Baldwin
Tekoa Bell
Dylan Brooks
Erika Broyles
Cora Deverick
Jasmine Ford
Michael Guthrie
Z'necia Hall
Carly Hampton
Elizabeth Hanson
Philip Irving
Jessica Keenan
Shafiha Masarrat
Kristen Mclauchlin
Erin Meadows
Shelby Morgan
Norah Okilee
Mackenzie Ramseier
Briana Robles
Vineel Syed
Sheila Turan
Olivia Tynes
Cassidy Waigand
Math Tutoring Program Tutors
Cheyenne Dickemper
Samuel Mueller
Peter Nguyen
Both tutoring programs are managed through partnerships with individual schools in the St. Louis region. If you believe your child needs additional tutoring, please contact your child's school to see what resources are available.